Singapore Fling
The return of a hotel legend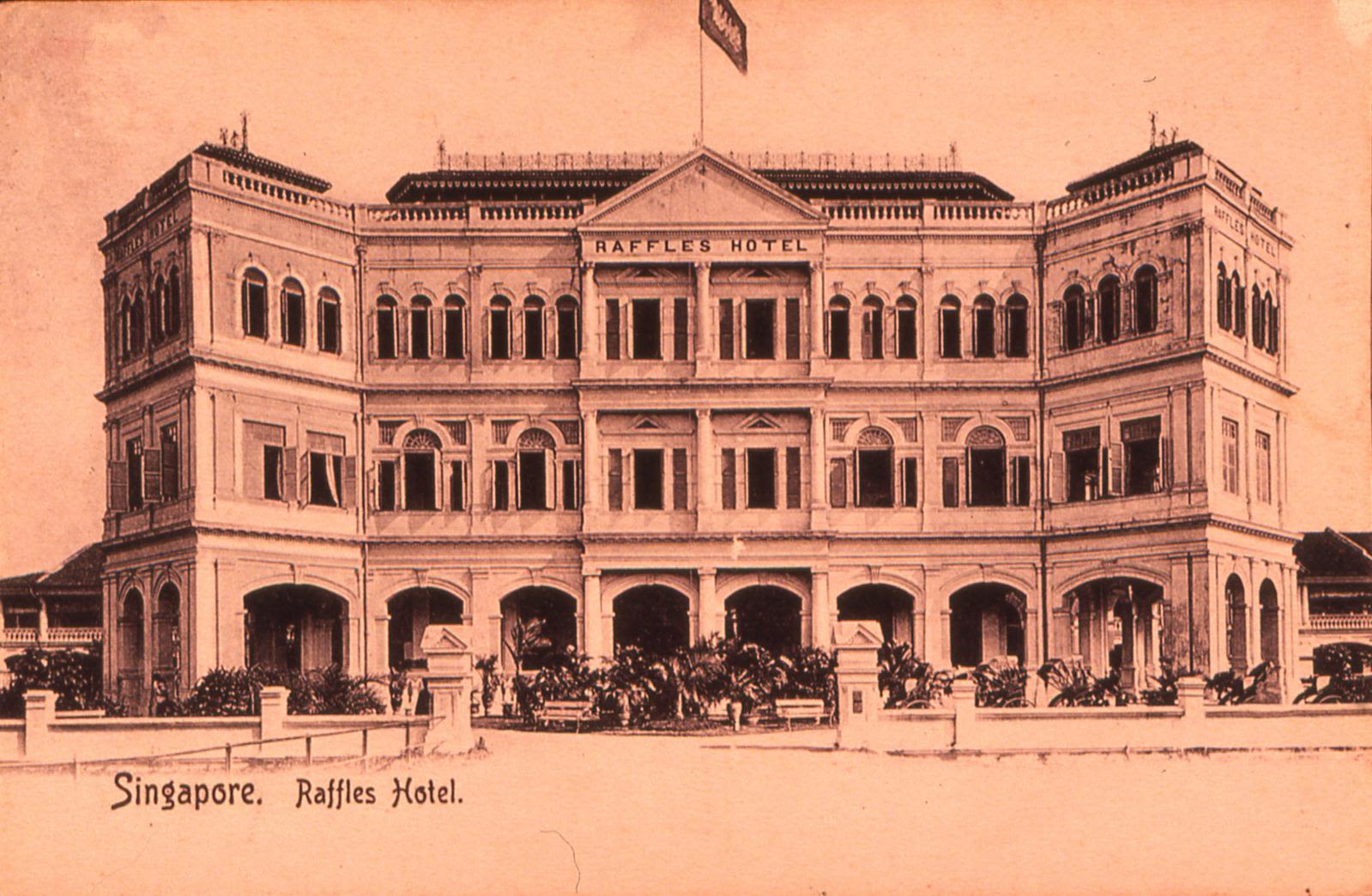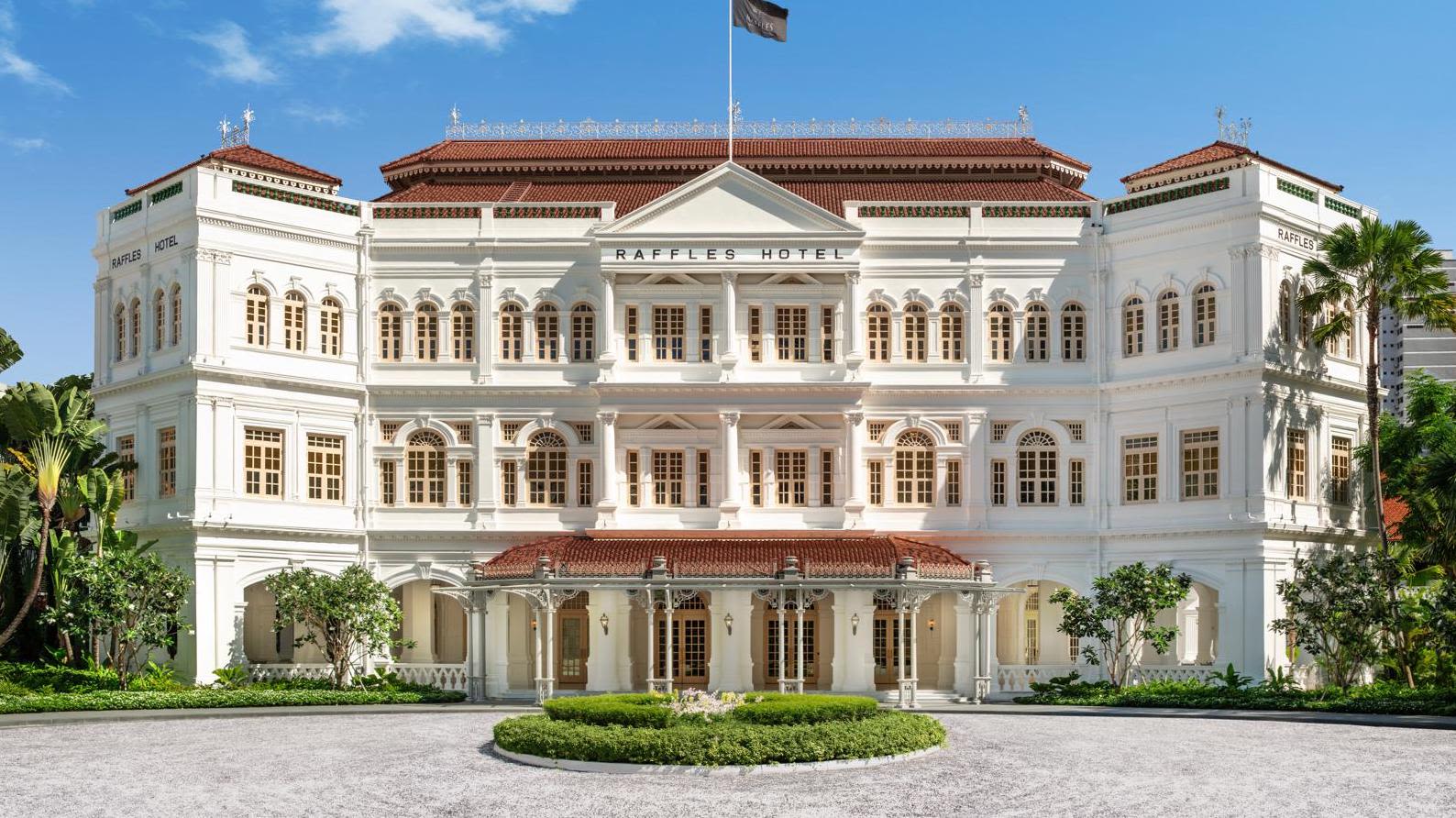 Raffles Singapore has officially reopened, unveiling its revitalised facade and interiors to guests on 1st August after a two-and-a-half-year, three-phase process. The restoration is the first since 1991, and promises to bring the iconic hotel back to its former glory, while introducing modern amenities to ensure the heritage hotel stays relevant as its well-heeled customers' needs evolve.
First opened in 1887 and declared a National Monument a century later by the Singapore Government in 1987, Raffles Singapore has long been a national treasure among Singaporeans, who deeply value its historical significance and unique heritage. Famed for its Far East romance, the hotel has gained an international reputation as the go-to hotel for luxury travellers in Singapore.
Now, liveried Sikh doormen welcome guests into the hotel's charming colonial-style Grand Lobby, where the architecture has been perfectly preserved both inside and out. Within its walls are more than a hundred expansive suites, framed by polished teak verandahs and white marble colonnades, clustered around lush tropical gardens. 
And of course, the discreet and legendary Raffles Butlers attend to guests at all times throughout their stay, taking on the role of personal assistant, anticipating their every needs and desires.
"There are few hotels in the world whose names have become virtually synonymous with the cities in which they are located – and none more so than the Raffles Hotel in Singapore," said Christian Westbeld, General Manager, Raffles Singapore. "The newly restored Raffles will provide an experience like no other. It is our wish and desire that our guests will continue to create treasured memories at the hotel, while rediscovering what makes it so special – the distinctive architecture, heritage and legendary service."
Jeannette Ho, Vice President, Raffles Brand and Strategic Relationships, Raffles Hotels and Resorts, added that the reopening of the treasured hotel marks the the beginning of an expansion for the Raffles brand, which will open hotels in new destinations over the coming years including Udaipur, London and Boston. "As the hotel concludes its restoration and embarks on the next chapter, the return of this flagship property to Raffles Hotels & Resorts paves the way for the expansion of the brand as we deliver this same level of unparalleled service and sublime experiences to new destinations…"
The meticulous restoration of the 19th century building was led by acclaimed interior designer Alexandra Champalimaud and supported by Aedas, a leading global architecture and design firm.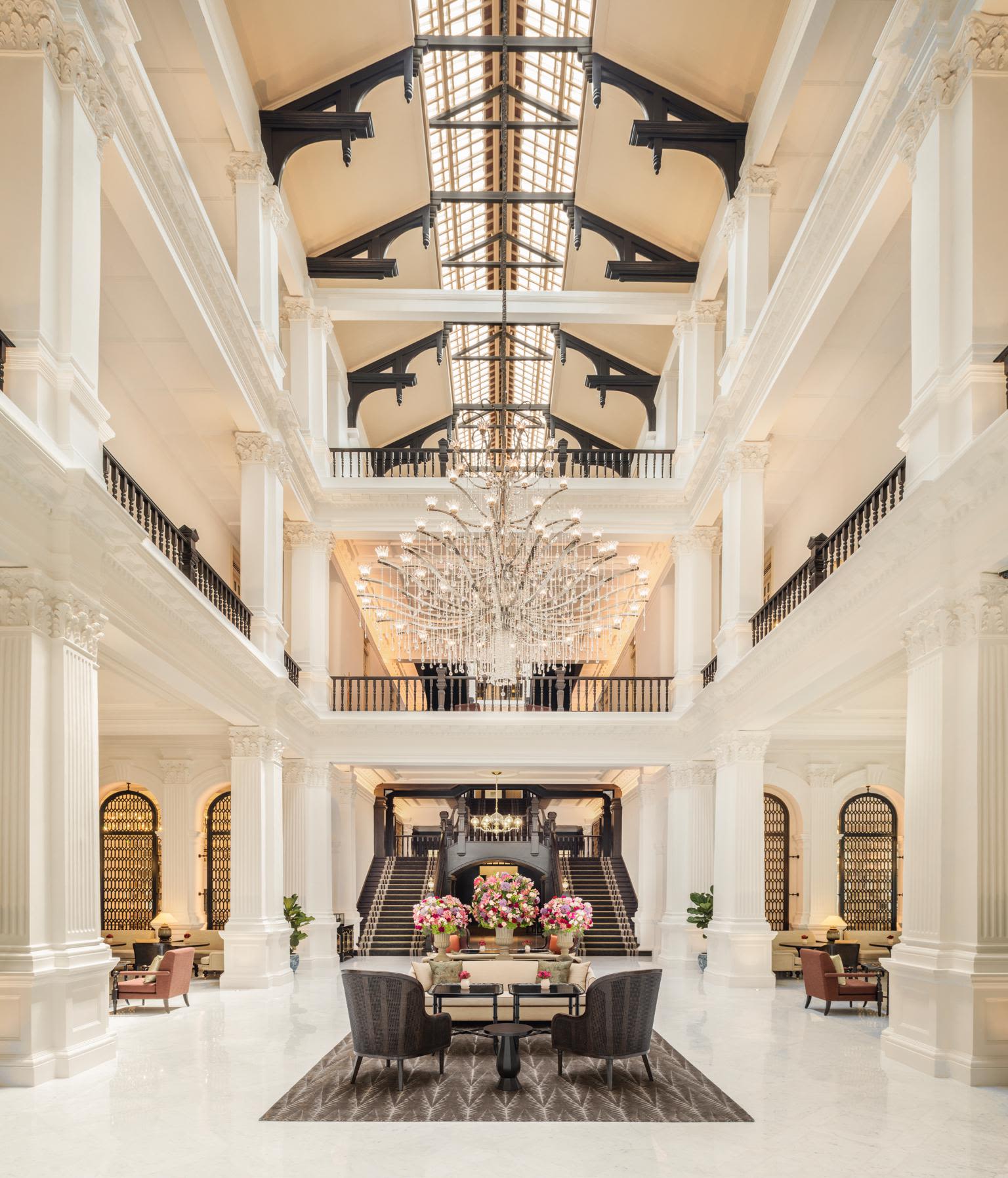 Grand Lobby, Raffles Singapore
Grand Lobby, Raffles Singapore
A Brief History of Raffles Singapore
1887
In September, a short article in the local press announced the intention of the Sarkies Brothers, proprietors of the Eastern & Oriental in Penang, to open a hotel in Singapore and name it after Singapore's founder Sir Stamford Raffles. The location: the old bungalow at the corner of Beach and Bras Basah Roads owned by the Arab trader, Mohamed Alsagoff. On 1st December, Raffles Singapore opened to the public as a 10-room hotel.
1899
Raffles Singapore's familiar Main Building was completed and opened with great fanfare on 18th November. This marked the beginning of the hotel's heyday. The elegant neo-Renaissance architecture and grand spaces reflected comfort and style, while the hotel boasted Singapore's first electric lights and fans and a French chef. Raffles rapidly became a magnet for travellers and Singapore residents.
1902
In August, the last tiger to be killed in Singapore was pursued at Raffles Singapore and was finally shot while cowering under the Bar & Billiard Room, then an elevated building.
1904
The Bras Basah wing opened, making Raffles Singapore "the most magnificent establishment of its kind East of Suez", according to a newspaper report of the day. The hotel was the venue for numerous social events, from dinner dances to skating dinners and billiard competitions, and played host to travellers from all over the globe.
1987
The Singapore Government designated Raffles Singapore a National Monument.
1989
In March, the hotel closed to undergo a complete restoration. The multi-million-dollar project would return Raffles to its elegant look of the 1910s and 1920s and ensure its status as one of the world's grand hotels.
1991
On 16th September, the restored hotel reopened its doors to the public, looking much as it did in 1915 during its elegant first days. 1st November and beyond saw the opening of the Raffles Arcade with more facilities and attractions including speciality shops, new food and beverage outlets, the Raffles Museum & Museum Shop, Jubilee Hall theatre playhouse and five function areas.
1996
Built in 1904, the Bras Basah Wing of Raffles Singapore was reestablished as Raffles Inc. housing what was agreed to be 18 of 'the most commodious State Rooms' in the East.
2017
Raffles Singapore commenced a second complete restoration, starting with Phase One in January 2017. Phase Two continued from mid-2017 onwards and the last phase took place starting in late 2017.
2019
On 11th July, Raffles Singapore reopened the Raffles Arcade, showcasing a myriad of tenants and an elegant mix of new-to-market, and world-renowned international brands, collectively creating a one-of-a-kind retail experience. Raffles Singapore reopened its doors to welcome guests with elevated experiences and refreshed spaces on 1st August 2019.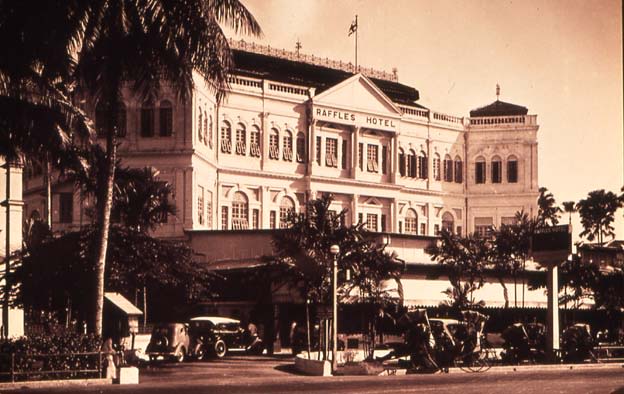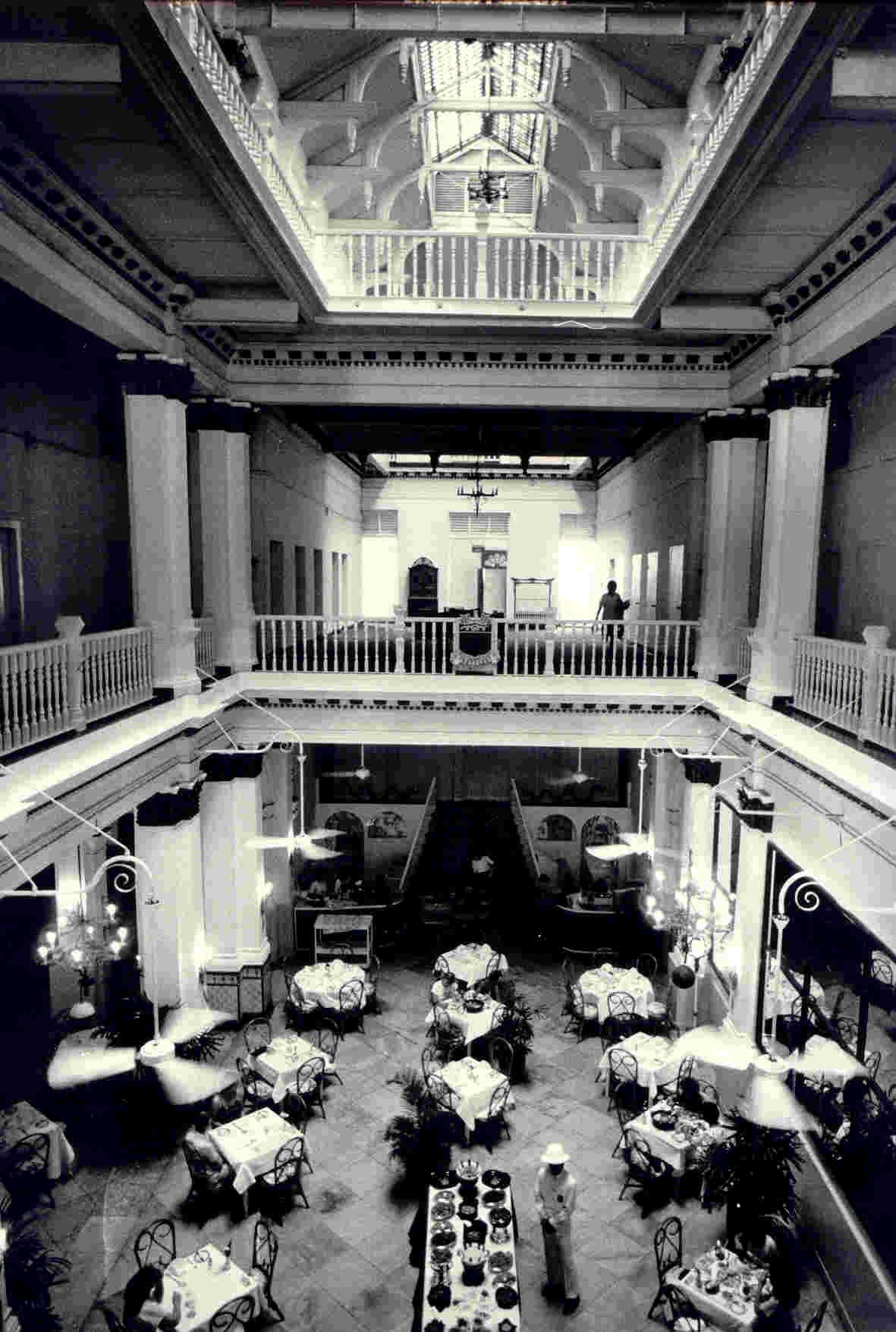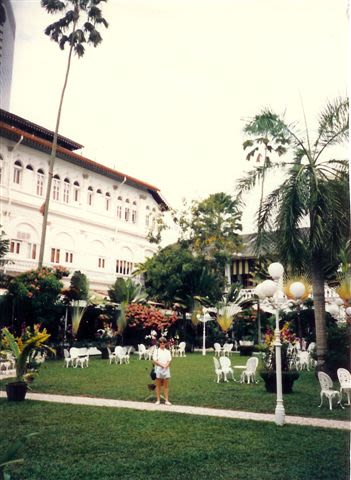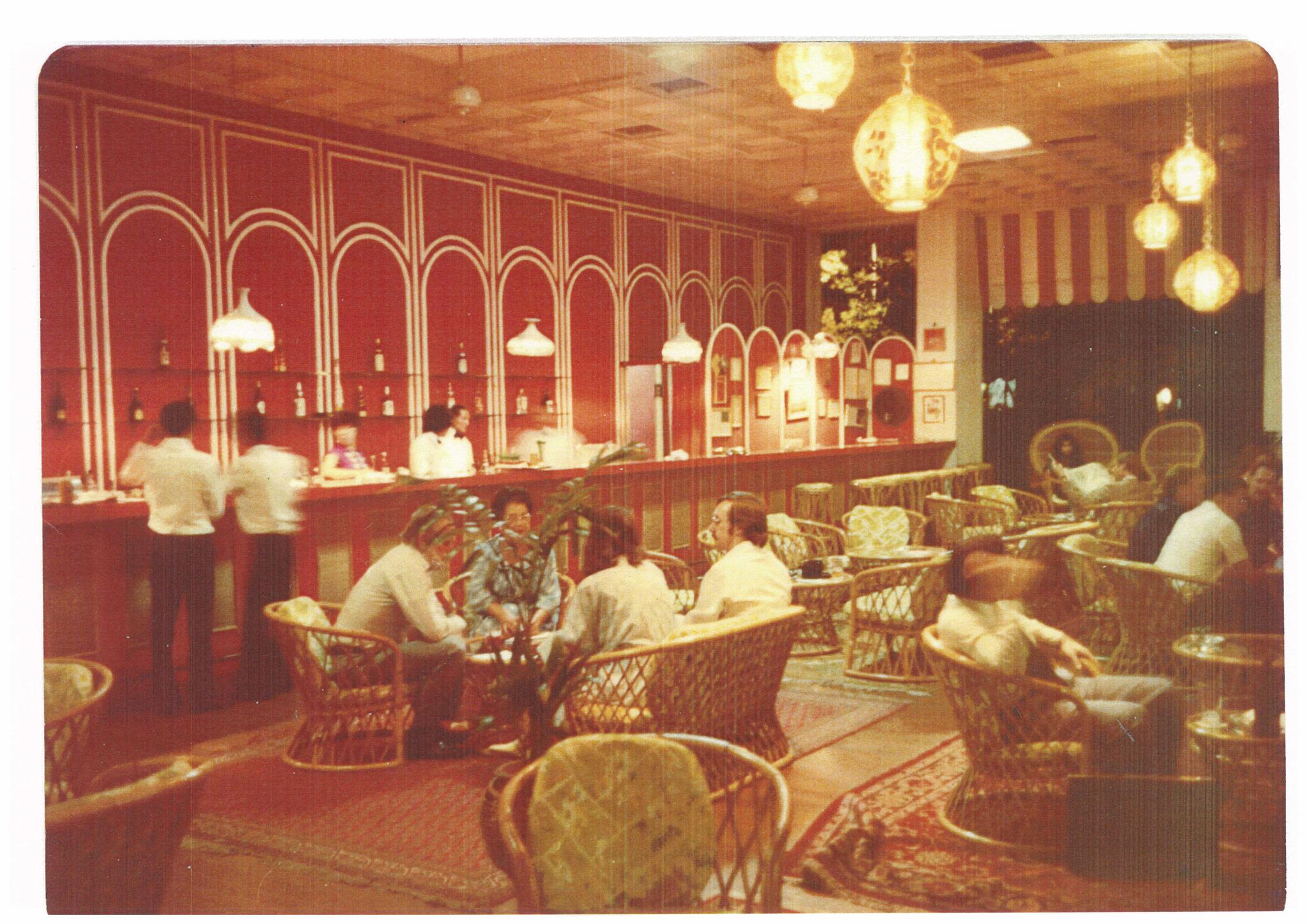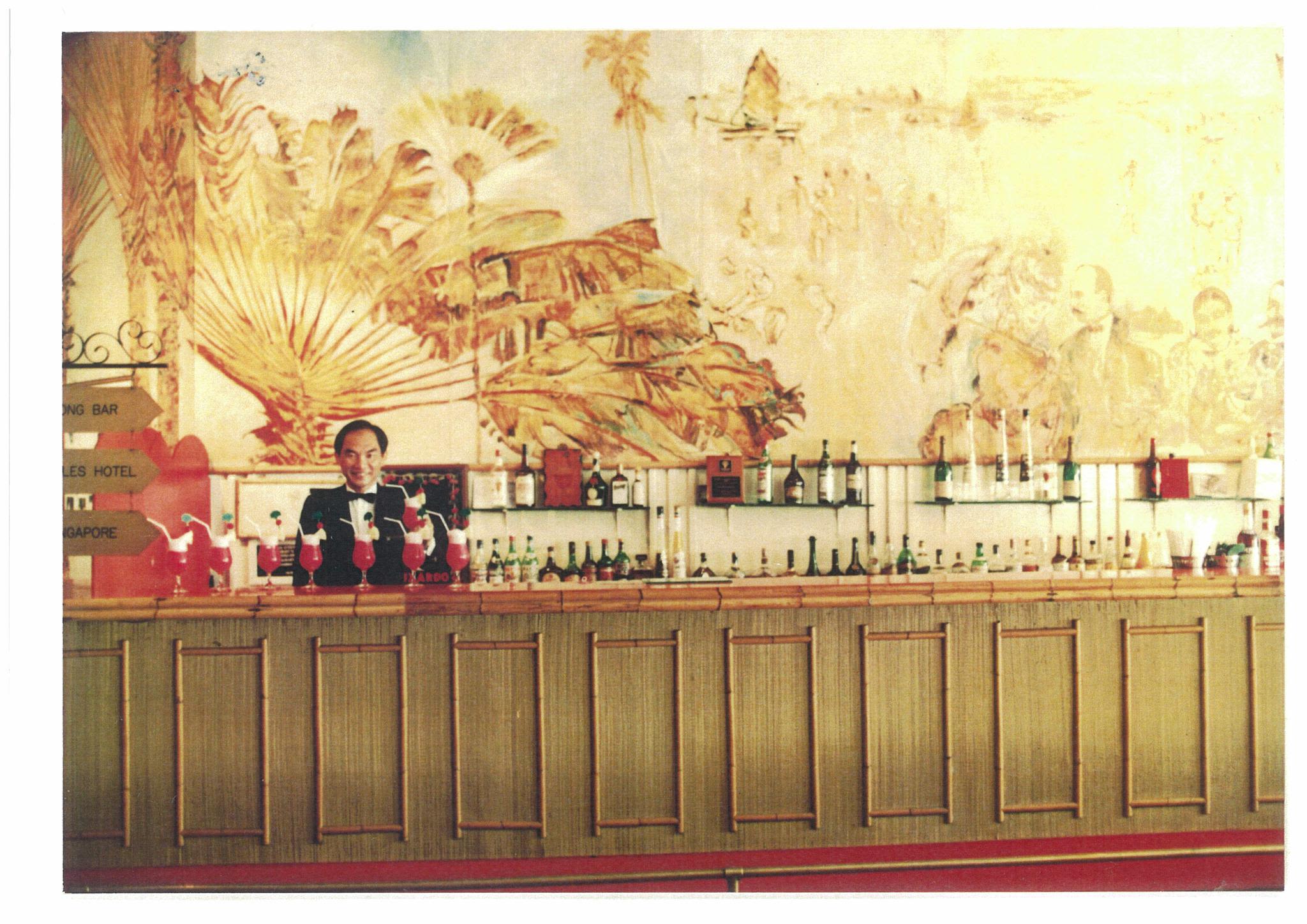 ""Raffles Singapore is one of the few remaining great 19th century hotels in the world and its restoration has been carefully designed to preserve its unique historic charm, while creating extraordinary experiences for our esteemed guests."
Christian Westbeld, General Manager, Raffles Singapore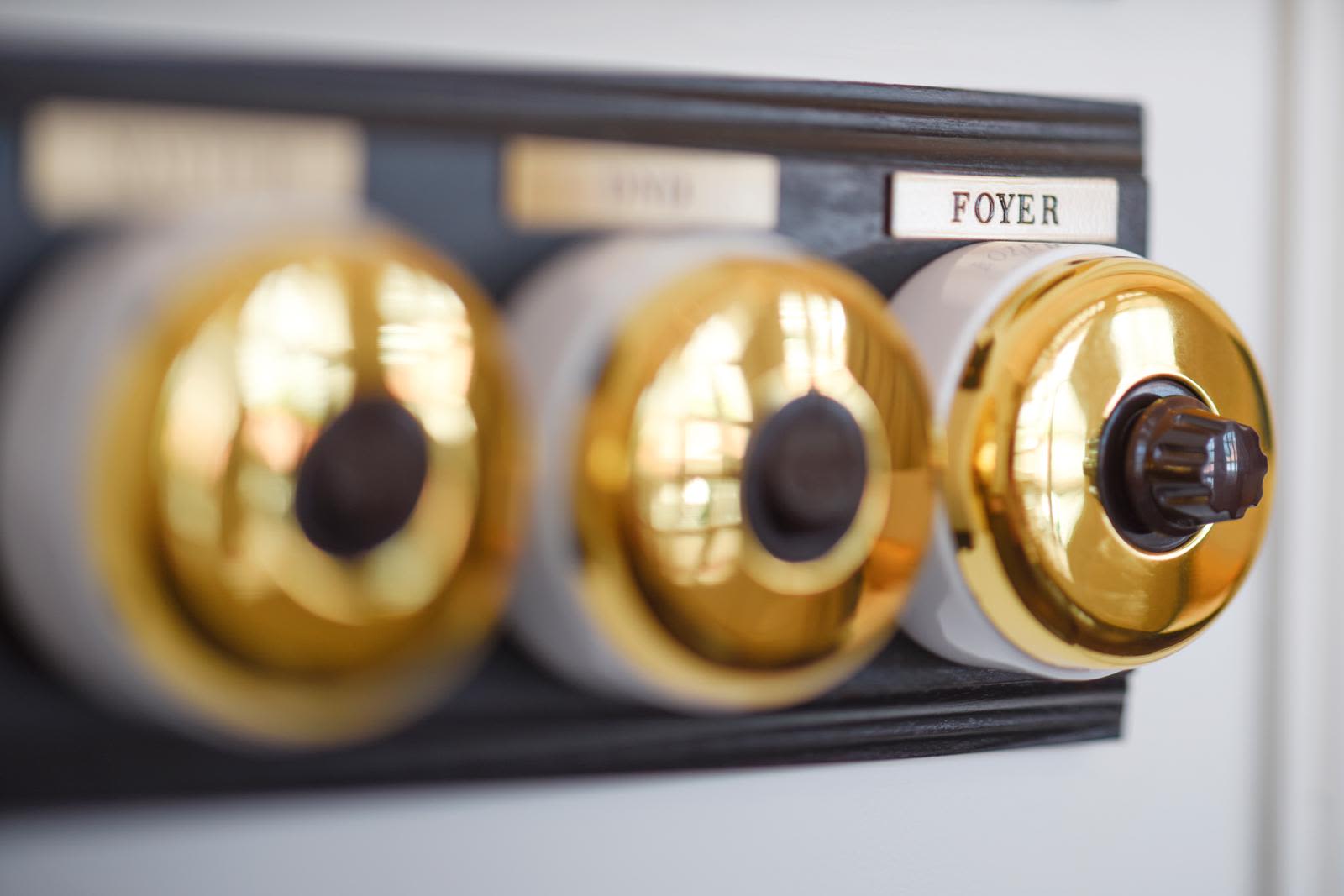 What's New at Raffles Singapore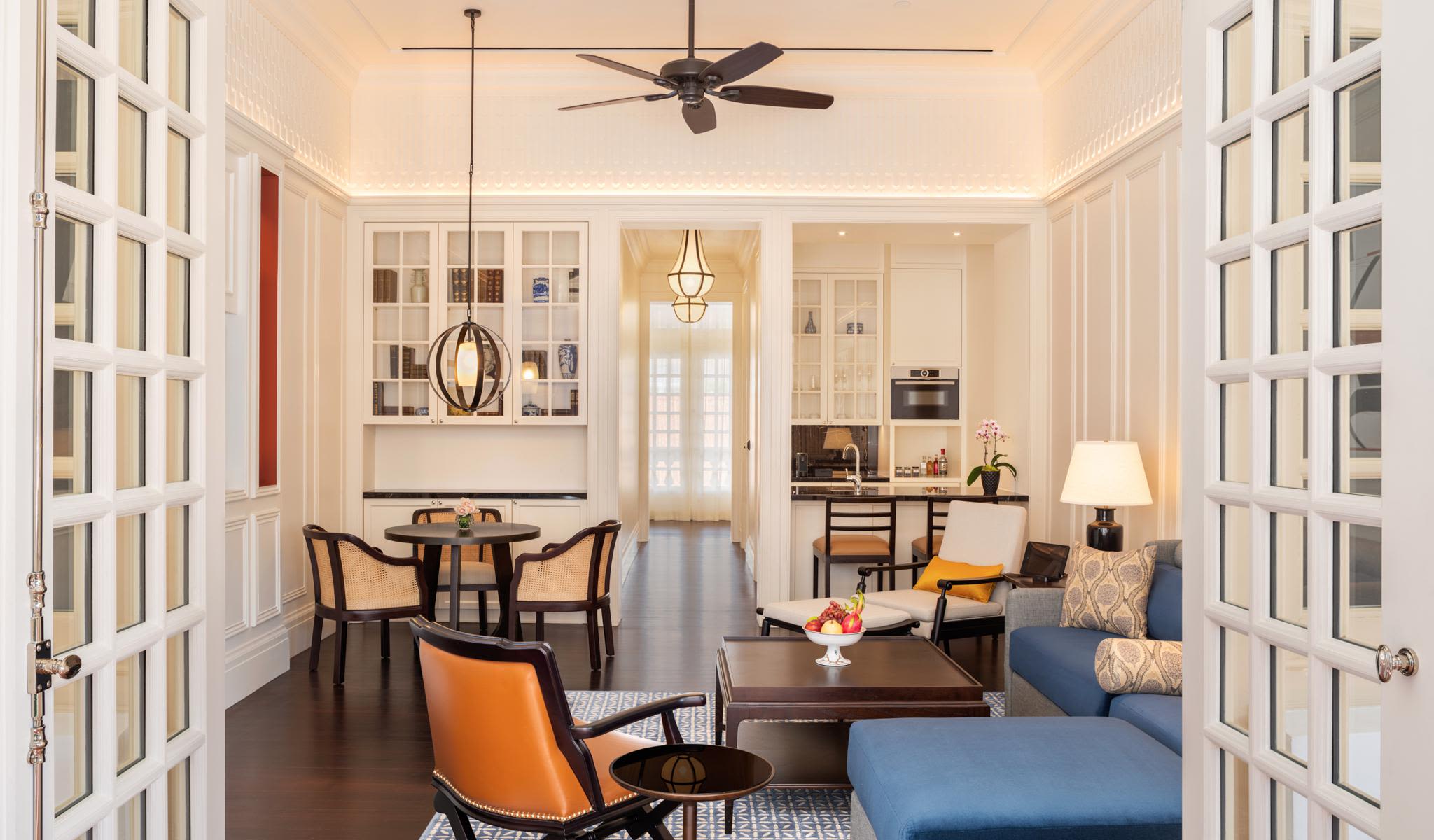 Residence Suite Living Room
Residence Suite Living Room
New Suite Categories
Luxury travellers can expect new levels of comfort and service, with with all suites now updated and outfitted with new amenities, redesigned bathrooms and state-of-the-art technology. Every detail is true to the hotel's heritage, making a stay here atmospheric and luxurious. The luxurious all-suite accommodation is spread across nine distinct suite categories, with Residence, Promenade and Studio suites brand new additions to the hotel's existing line-up. The total suite count has also increased from 103 suites to 115 suites.
Studio Suites
Nestled in the Main Building above the hotel's charming colonial-style Grand Lobby, Raffles Singapore's six Studio Suites feature four-metre-high ceilings to create a sense of openness and space, each with a verandah that offers views of the tranquil and tropical Palm Garden.
Residence Suites
Located in the Raffles Arcade, the five Residence Suites feature either one or two bedrooms and enjoy private access, making it an ideal option for guests seeking space and seclusion. Each suite comes with a living and dining area, a pantry, an intimate office space, powder room and bedroom. These comfortable homes-away-from-home are named after famous local cinemas from the early to mid-1900s – a tribute to the days when the hotel's neighbourhood was known as "The Place of Cinemas". The names of the suites are Alhambra Suite, Diamond Suite, Marlborough Suite, Odeon Suite and Theatre Royal Suite.
Promenade Suites
A nostalgic tribute to the late 1800s when Raffles faced Singapore's beachfront, the two Promenade Suites are nestled intimately in the front-most corner of the Main Building, overlooking Beach Road. Each suite is named after a prominent female figure of her time in Singapore and features a parlour, dressing room and luxurious bedroom with a king bed. Guests residing here enjoy 24-hour check-in and check-out.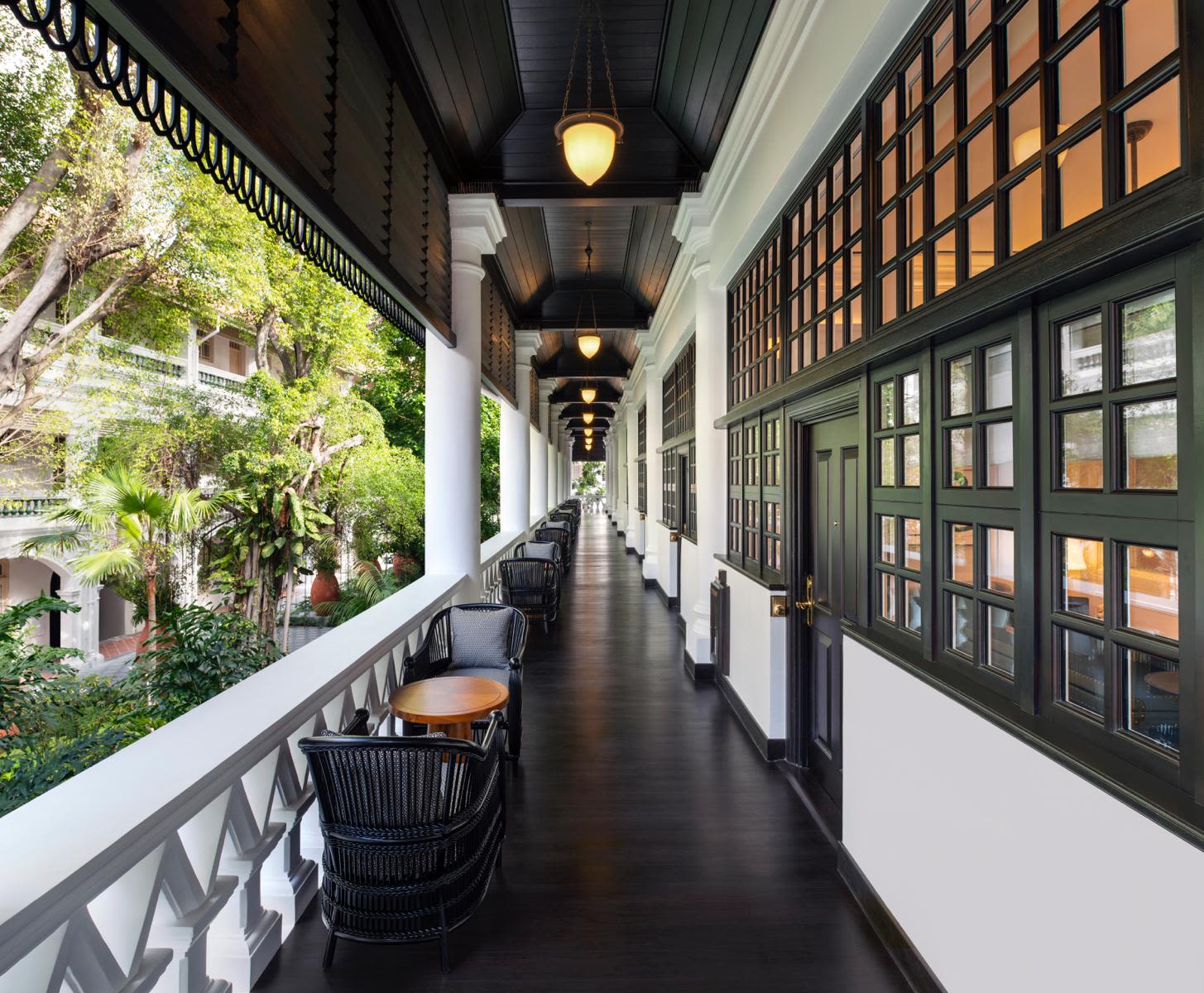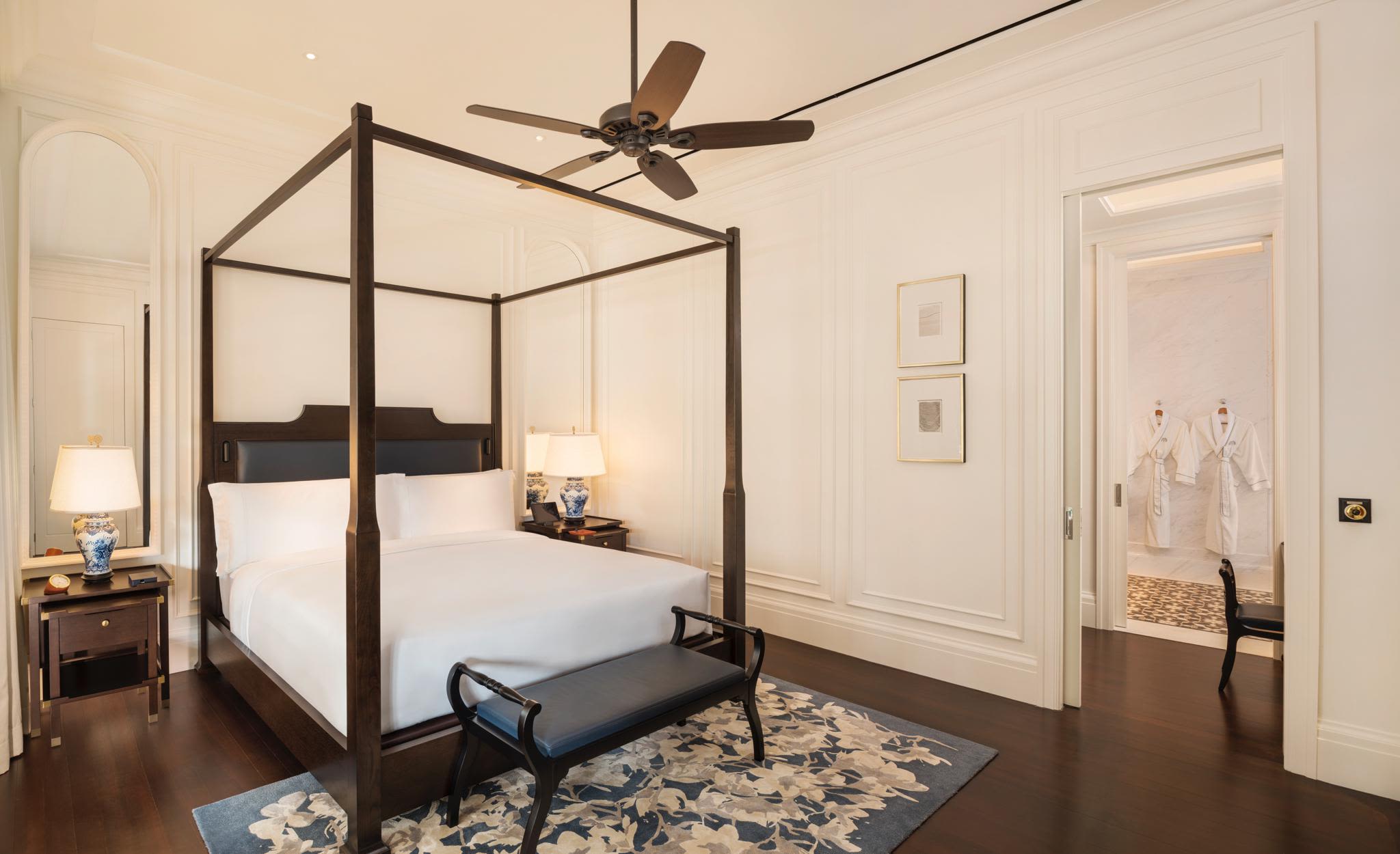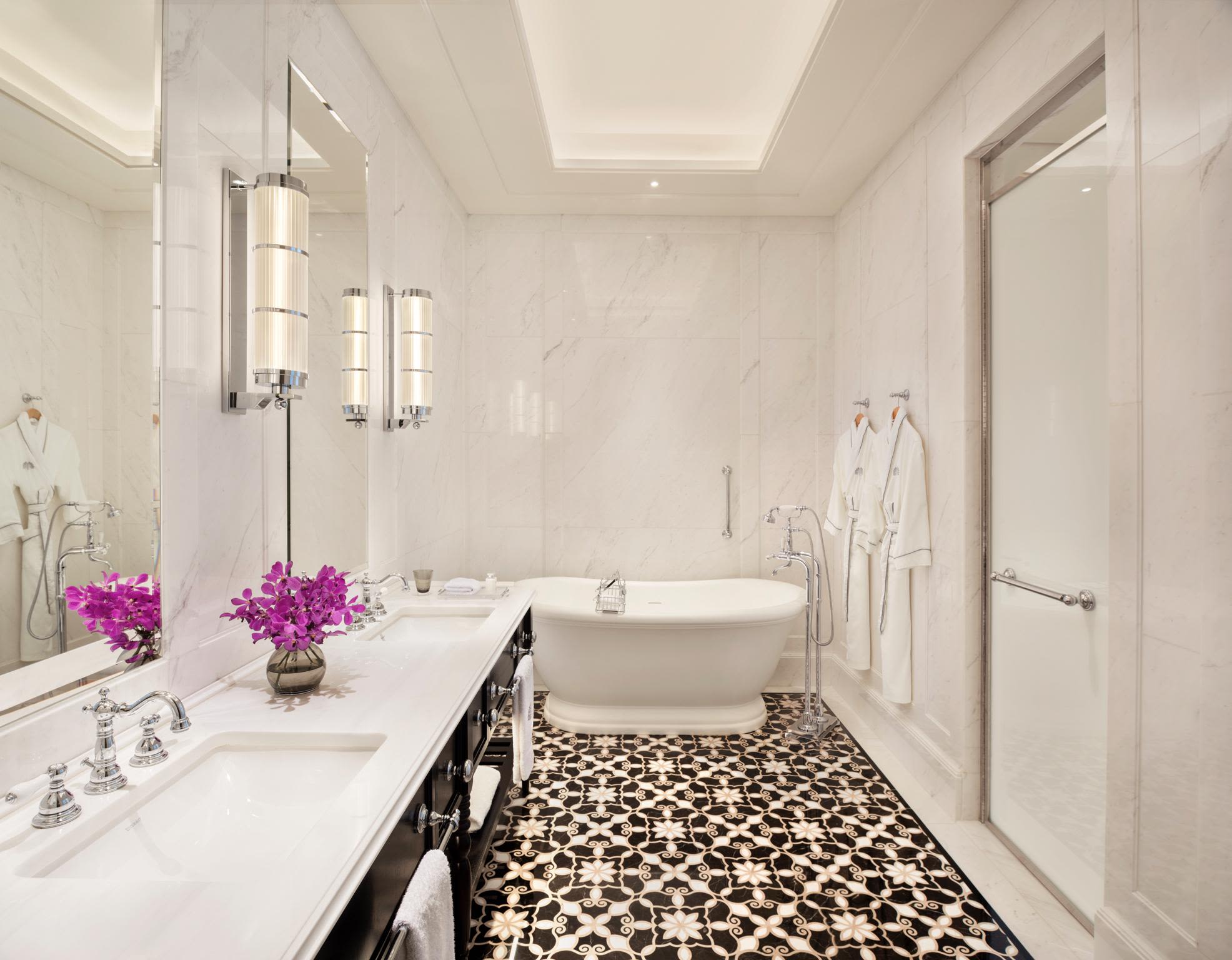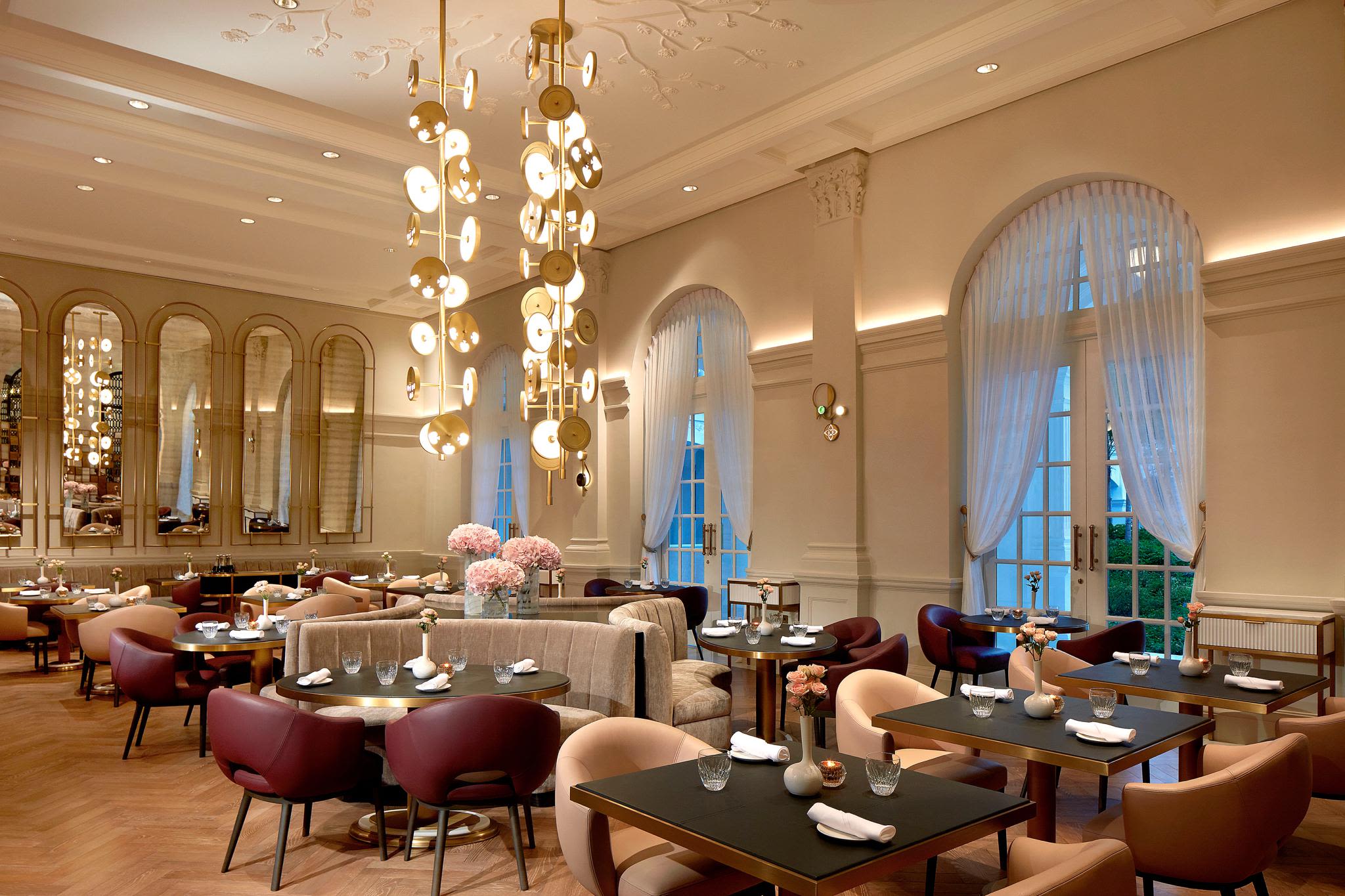 La Dame de Pic, Raffles Singapore
La Dame de Pic, Raffles Singapore
New Dining Concepts
The new Raffles Singapore will be adding restaurant collaborations with celebrity chefs to its dining line-up, including Anne-Sophie Pic of the three-Michelin star Maison Pic in Valence, France; venerable French Master Chef Alain Ducasse; and Chef Jereme Leung, known for his innovative Chinese cooking.
The hotel's other dining experiences – Ah Teng's Cafe, Tiffin Room, Raffles Courtyard, The Lobby and Writers Bar – have all been refreshed, while at the revitalised Long Bar travellers will continue to enjoy the hotel's most famous cocktail, the original Singapore Sling, along with the timeless tradition of tossing peanut shells on the floor.
BBR by Alain Ducasse
Bar & Billiard Room (BBR) will begin a new chapter with acclaimed Chef Alain Ducasse presenting his first Mediterranean sharing and grill concept in the world. The unique restaurant takes customers on a culinary journey along the Mediterranean coast, complemented by a modern and vibrant ambience.
In true Bar & Billiard Room fashion, dining at the restaurant will also be accompanied by a lively bar scene that is fun, relaxed and perfect for social gatherings. Additionally, when BBR by Alain Ducasse opens, the highly anticipated Raffles Sunday Brunch, with its reputation of being one of the city's most indulgent Sunday experiences, will also return.

BBR by Alain Ducasse will open in the middle of September 2019.
La Dame de Pic
One of the world's top female chefs with a total of seven Michelin stars under her belt, Anne-Sophie Pic will makes her debut in Asia with a remarkable new restaurant located in the Main Building of Raffles Singapore. La Dame de Pic reflects the chef's search for aromatic complexity, combinations of flavours and powerful tastes that evoke emotions. The restaurant offers a variety of set menu options that will be changed seasonally with influences from Valence and South East Asia.

La Dame de Pic is now open and is available for reservations.
兿 yì by Jereme Leung
Helmed by one of the most influential chefs in the modern Chinese culinary movement, celebrity MasterChef Jereme Leung returns home to Singapore with yì by Jereme Leung. The contemporary Chinese restaurant will be located on Level 3 at the newly restored Raffles Arcade. From Cantonese classics to adaptations of China's ancient delicacies, Jereme will be using single sourced and seasonal ingredients with a contemporary approach to deliver refinement and sincerity.

兿 yì by Jereme Leung will open in early September 2019.
Butcher's Block
Butcher's Block focuses on the world's finest cuts of single-sourced meats, showcased in The Vault – a glass meat cooler situated next to the Open Kitchen, where meats are prepared and cooked to perfection. Guests are given personal recommendations by the resident meat specialists, based on their individual tastes. Located in the Raffles Arcade, the restaurant features communal tables for exceptional gatherings, complete with a wine library that houses more than 100 different wine labels.
Butcher's Block will be open in the early October 2019.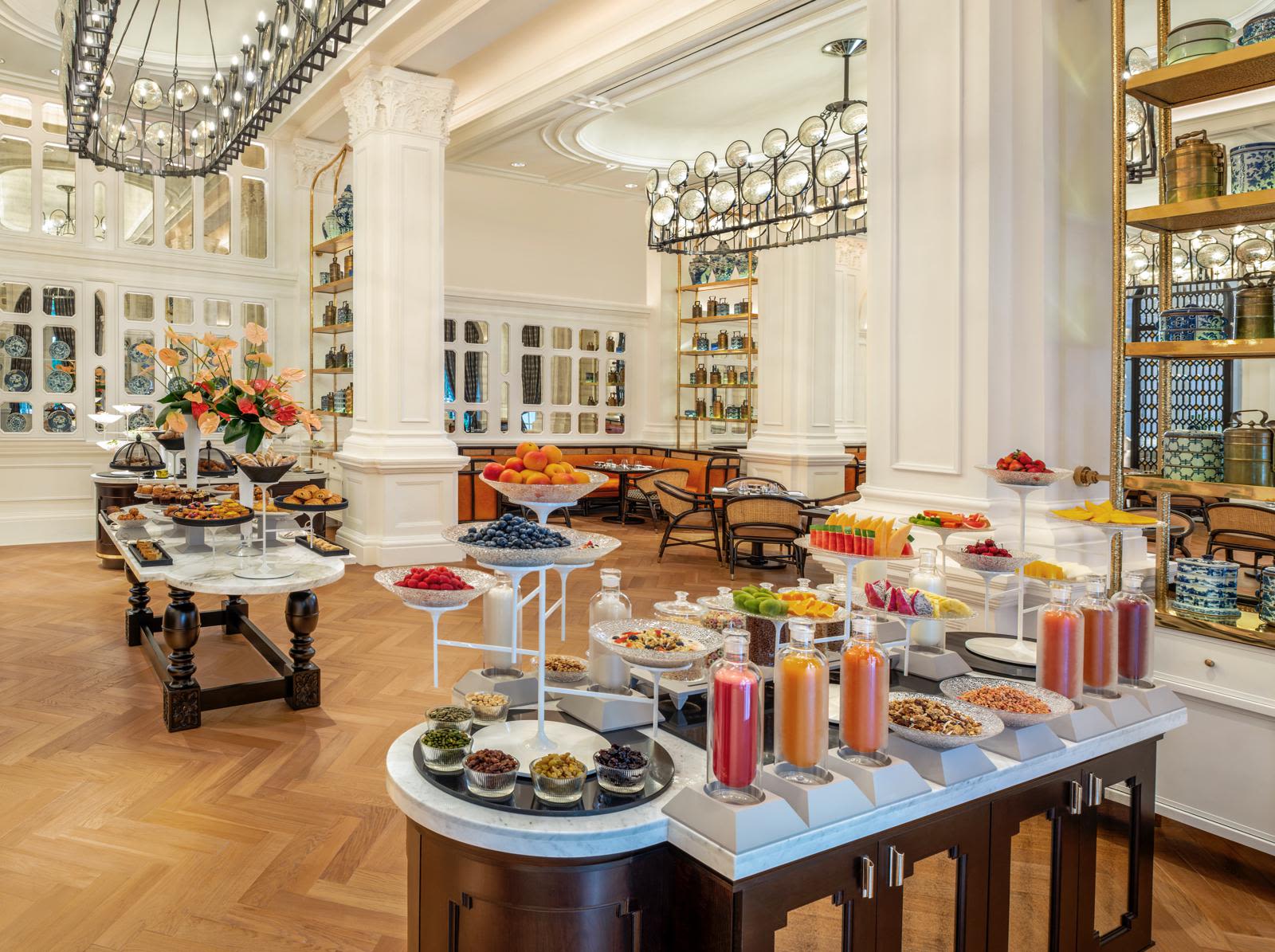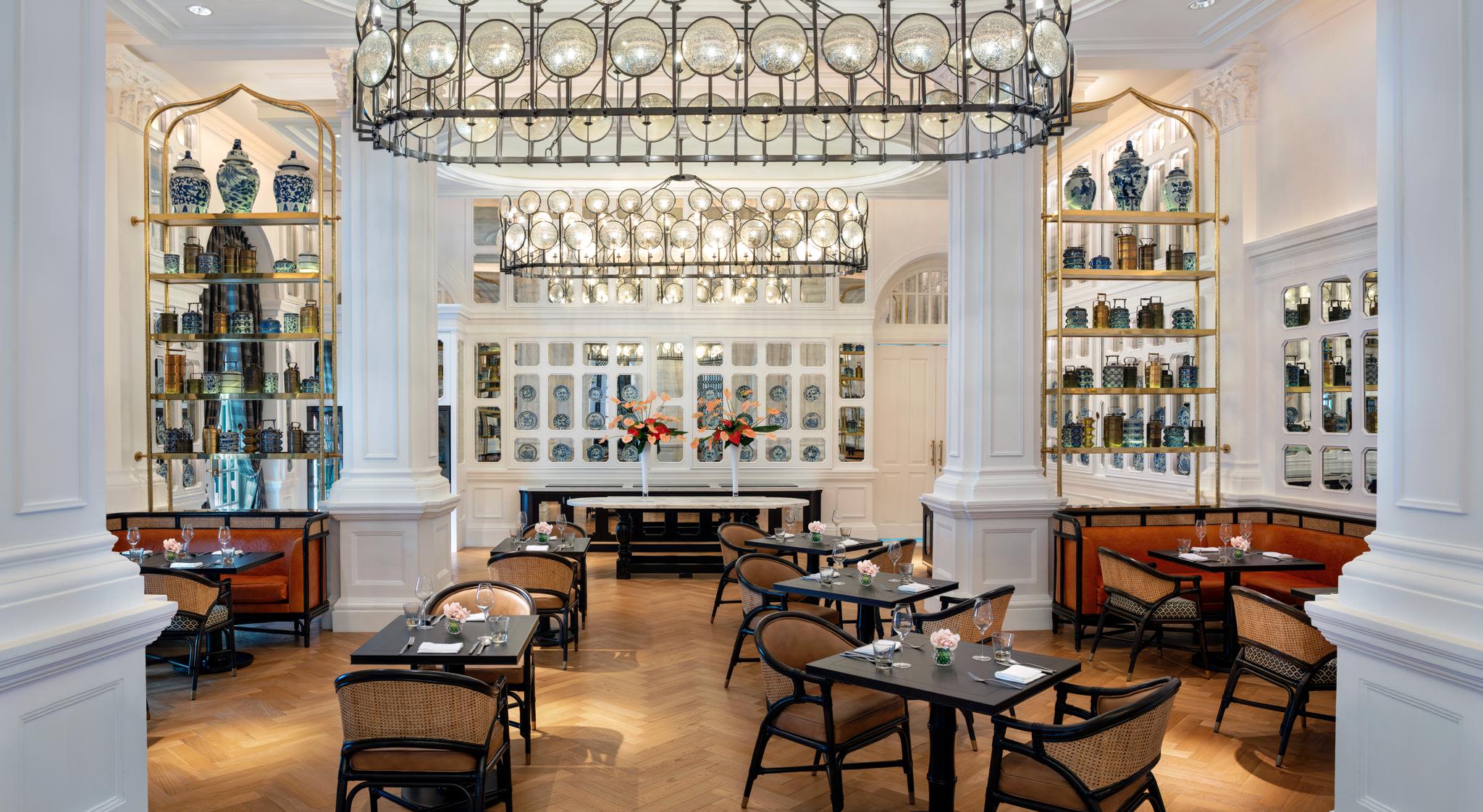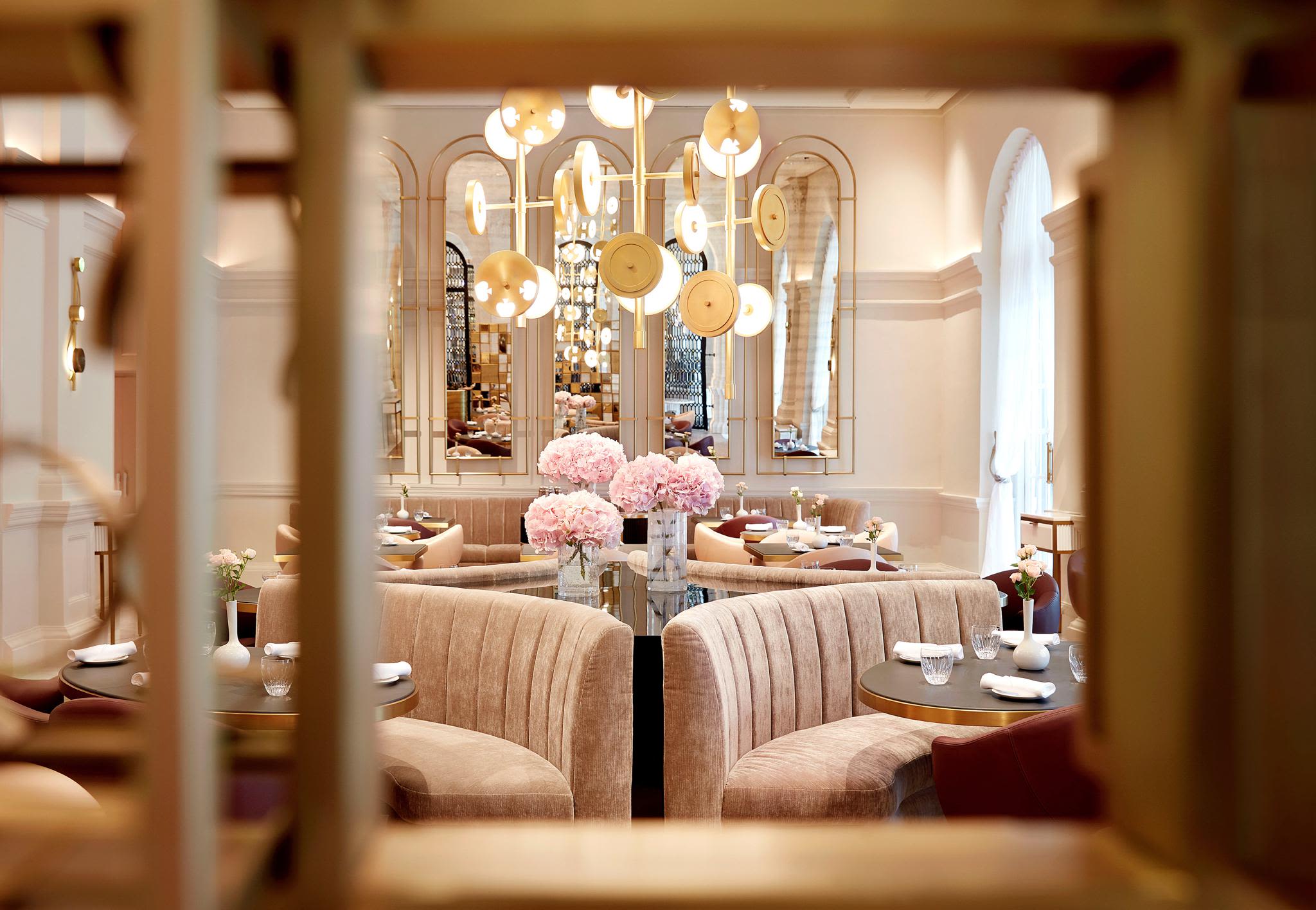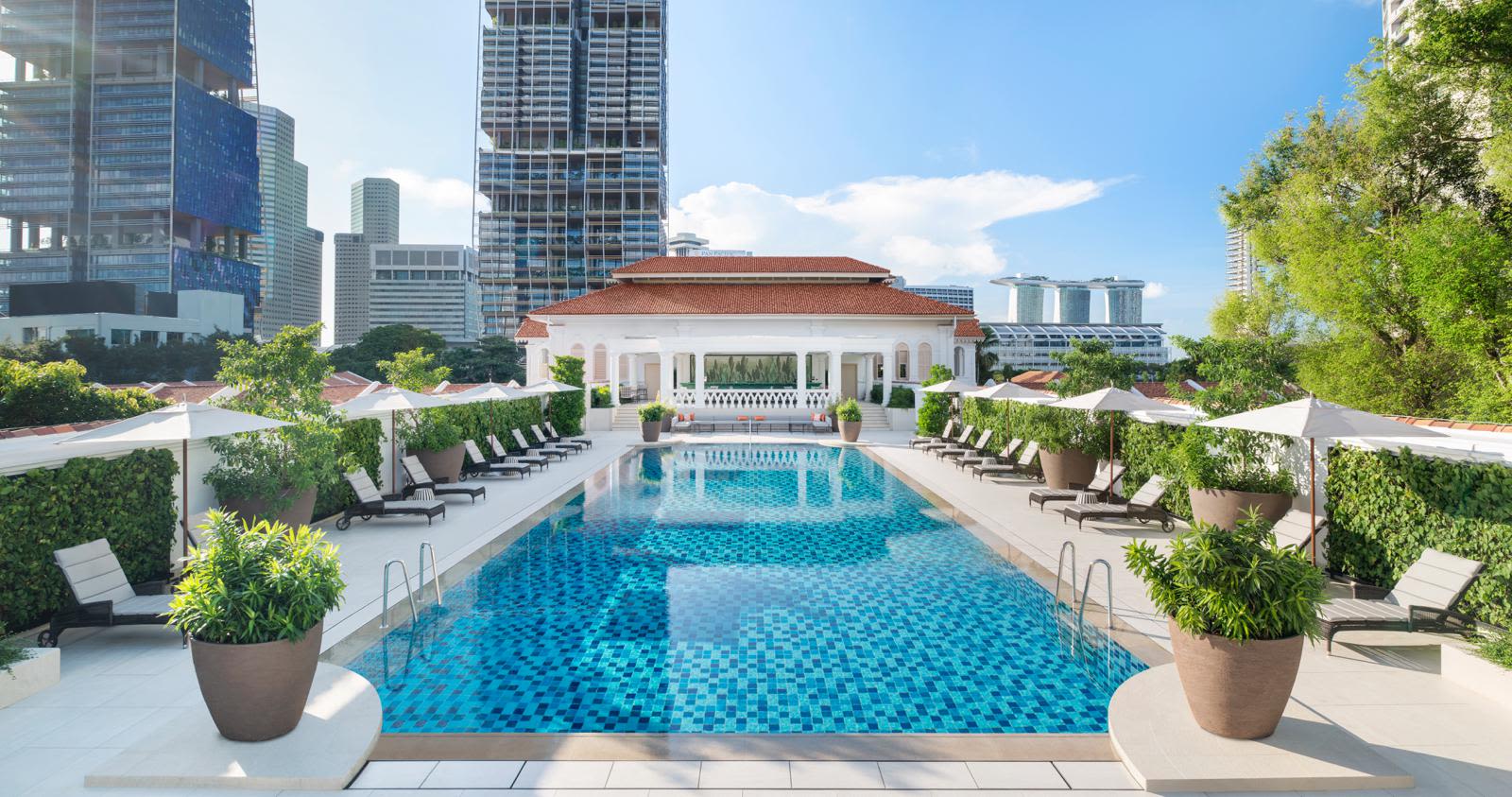 The rooftop pool at Raffles Singapore
The rooftop pool at Raffles Singapore
Along with the suite and restaurant upgrades, The Raffles Arcade has also been newly outfitted with a charming Raffles Boutique and various bespoke retail brands. Primed to elevate the retail scene within the heart of the civic district, the refreshed space offers an inimitable shopping, dining and lifestyle experience set amidst the unrivalled elegance of the Raffles Hotel Singapore's glamorous colonial grandeur.
The Raffles Arcade showcases a myriad of tenants and boasts an elegant mix of new-to-market, and world-renowned international brands collectively creating a one-of-a-kind retail experience.