New Horizons
The rise and rise of luxury cruising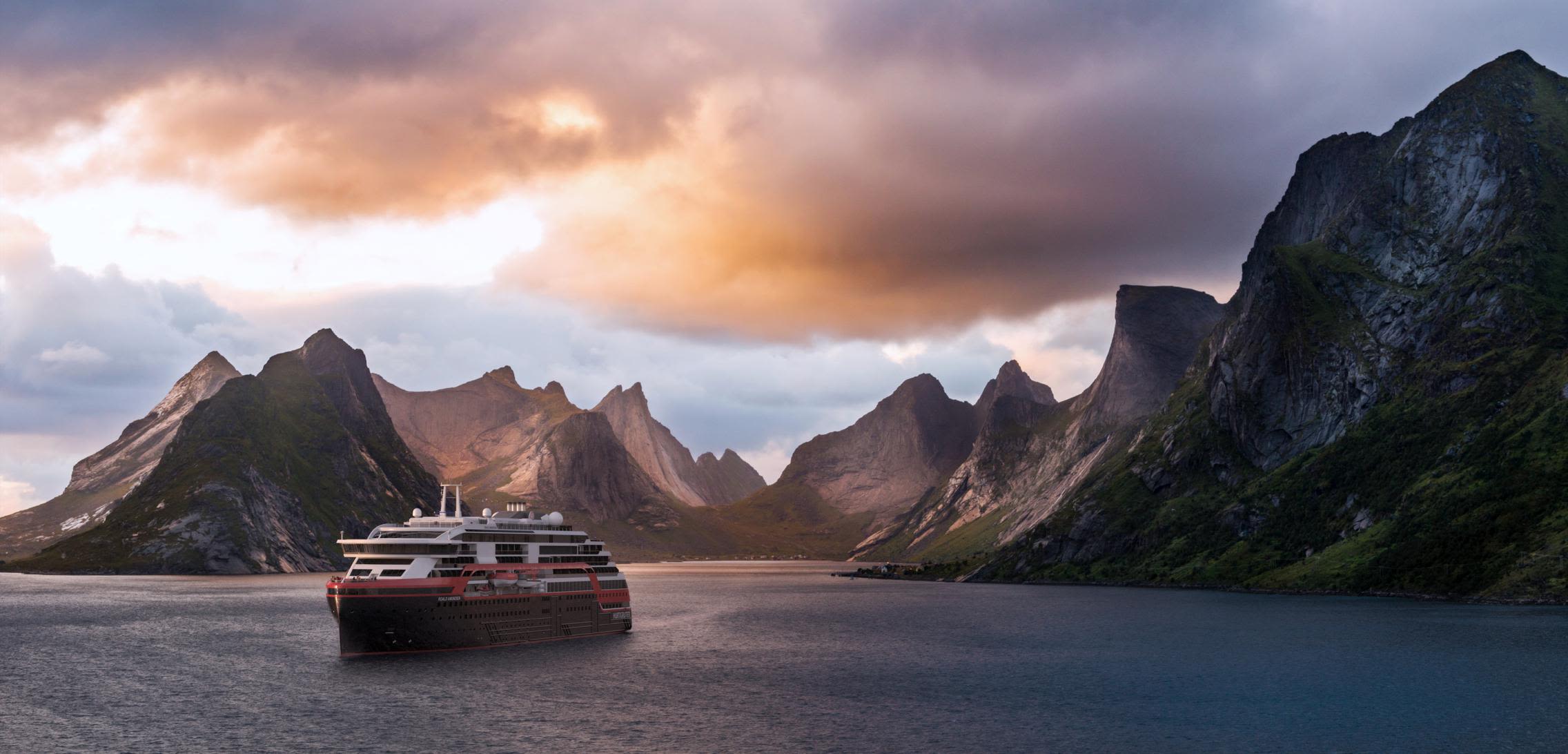 Hurtigruten MS Roald Amundsen | Lofoten, Norway
Hurtigruten MS Roald Amundsen | Lofoten, Norway
Luxury cruisers are in for the voyage of a lifetime as new and established cruise lines launch more bespoke vessels and sail further afield than ever before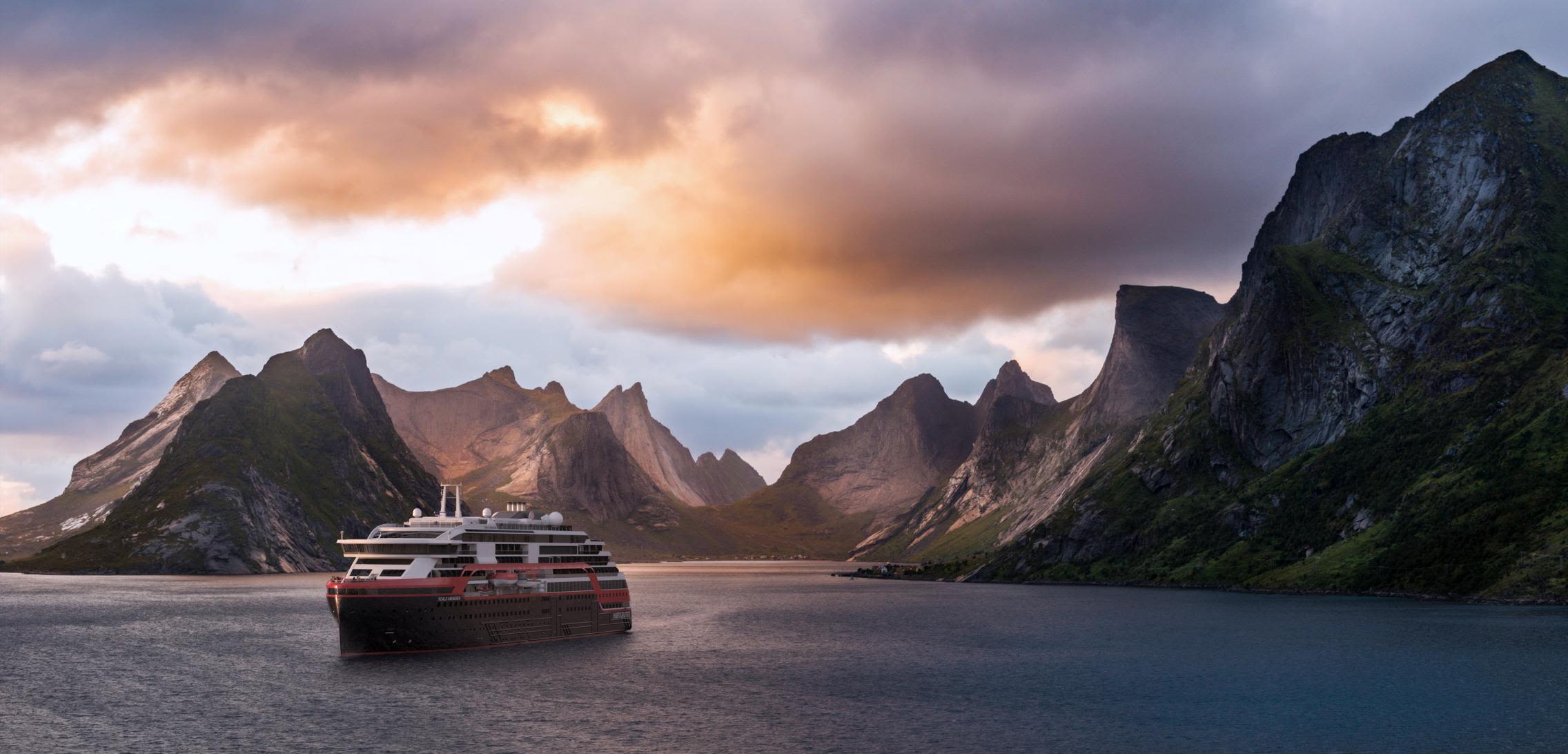 What's happening in the ever-expanding world of cruising? As to be expected in this super-successful travel sector, long-established mainstream companies are pumping out new ships at a rate of knots, but some interesting newcomers are entering the scene. Virgin Voyages is the prime example of an industry disrupter, but how different will Sir Richard Branson's cruise line really be – and who else is jumping on board the lucrative cruise wave?
We're seeing classic ocean lines moving into river cruising – and vice versa – and a huge push into the frontiers of luxury expedition cruising. As competition for both millennial and baby-boomer dollars heats up, cruise companies are whetting appetites with the latest food trends, finessing fitness and wellness offerings, and boasting more green credentials than you could poke a paper straw at. And as discerning travellers look for more destinations where they can escape the madding crowds, cruise-industry experts look into their crystal balls and reveal the next cruise hotspots.
On the Horizon: New Ships, New Lines
The next two or three years promise a bumper crop of luxury ocean, river and expedition ships, in response to demand from a new generation of healthy, wealthy travellers. In the US, a staggering 10,000 people reach retirement age every day; in Australia, more than 15 per cent of the population is aged 65-plus, a figure that is growing rapidly. Many of these baby boomers are already well-travelled and looking for new and ever- more sophisticated experiences; high-end cruise lines are busy building ships to fulfil those desires.
Regent Seven Seas Cruises' Splendor will be the first new ultra-luxe oceangoing ship to set sail, making her maiden voyage from Barcelona to Miami in February 2020. She will be under the command of Captain Serena Melani, the first woman in the cruise industry to helm a new cruise ship right from its launch. When reservations opened in April 2018, the line reported its most successful single booking day in its 26-year history.
The 750-guest Splendor will be a near-identical sister to 2016's Seven Seas Explorer and is RSSC's fifth ship. Explorer was billed as "the most luxurious ship ever built", while Splendor is described by the line as "luxury perfected". So how will Splendor achieve that?
According to Lisa Pile, RSSC's VP Sales, Australia and New Zealand, it's not about duplication. "It's a constant process of refinement," she says. "We keep a close eye on design trends, so Splendor's colour palette is lighter and brighter. There's more outdoor space and the famous Regent Suite, already the biggest at sea at 412 square metres, will be even more spacious."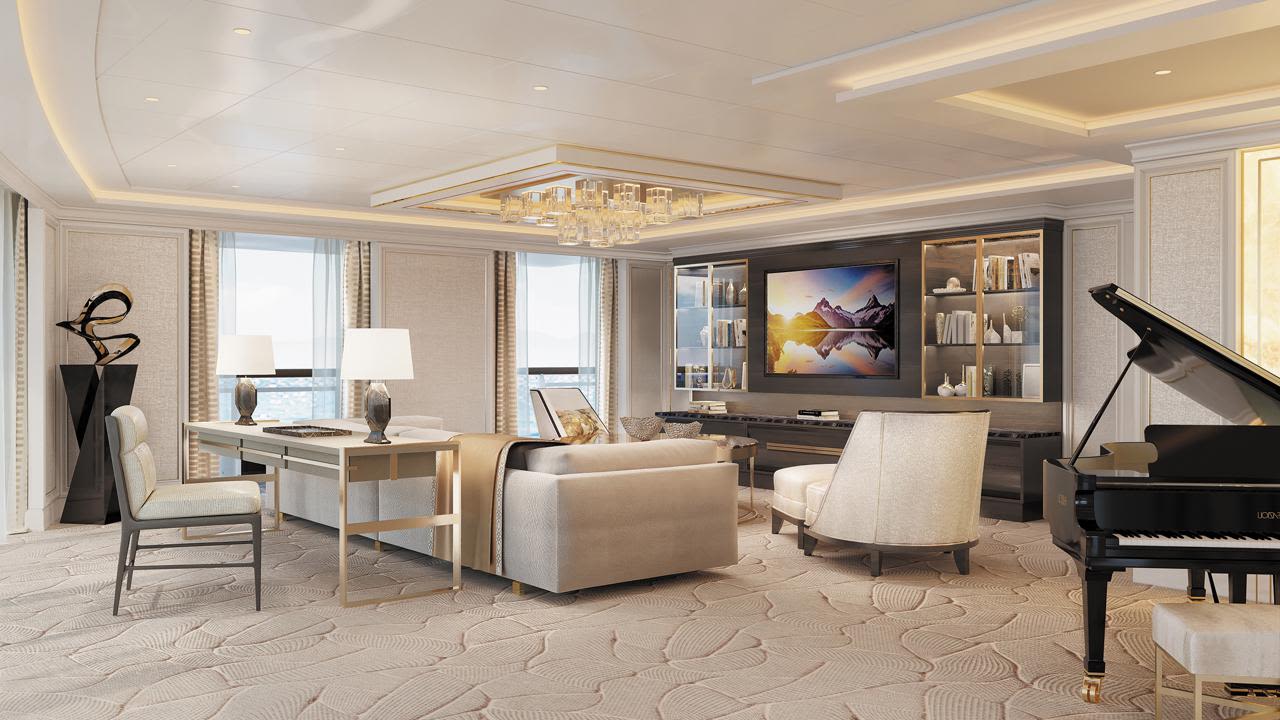 Also launching in February is the first of three ships for a brand-new cruise line: the Ritz-Carlton Yacht Collection. She will host 298 guests in 149 suites, each with a private terrace, and two supersized owner's suites. The boutique vessel, designed to evoke the feeling of sailing on your own private yacht, will have six dining venues, a marina platform stocked with water-sports toys and a crew-to-passenger ratio of almost one to one – essential for the true luxury cruise experience.
Again, demand for this style of cruising exceeded expectations – by about 300 per cent, says the Ritz-Carlton Yacht Collection's CEO, Douglas Prothero. "We know that there are more than 400,000 cruisers on the Ritz-Carlton database," he says. "However, the response from new cruisers is bigger than we thought. Between the brand and the design, it is bringing people into cruise, which is great for the business, great for the industry and great for us."
Marking the debut of another new cruise line is the arrival of Virgin Voyages' hotly anticipated Scarlet Lady in April 2020. Branson's latest pet project, a sizeable, 2770-sailor vessel (Virgin calls its guests "sailors" rather than passengers) is set to offer exciting, party-focused adults-only voyages (they're definitely not "cruises").
Virgin Voyages plans to attract a younger generation of non-cruisers; Scarlet Lady will feature a tattoo parlour, drag-queen shows, nightclubs, live music and RockStar suites, as well as plenty of cool spaces for relaxation, recovery and fitness. Sailors will have 20-plus dining options that are included in the fare and every restaurant will have its own bar. Virgin enlisted a top chef and uber-hip design firms to make the eateries – and everything else on the ship – "fun, experiential environments".
A more traditional luxury cruise experience awaits guests of Silversea's upcoming Silver Moon and Silver Dawn, due in autumn 2020 and 2021 respectively. They are sisters to the line's elegant flagship, the 596-guest Silver Muse; "small-ship intimacy" is one of Silversea's hallmarks, along with fine dining, all-suite accommodation and butler service for every suite.
Viking Ocean Cruises' chairman, Torstein Hagen, describes his 930-guest ships as "comfortable" rather than "luxurious". When he founded the oceangoing arm of the vast Viking river empire he talked about reinventing ocean cruising by putting the focus back on destinations rather than the ship – and it has paid off big time.
Whether you find them comfortable or luxurious, the ships are indisputably stylish, with their Scandi-cool decor, boutique-hotel ambience and, in my experience, the best spa at sea. Viking Jupiter, which launched in February this year, is the line's sixth ship since 2015; the next one is due in March 2021 and by 2027 there will be 16 in the fleet.
Meanwhile, Cunard, one of the most venerable lines in the business, is taking things a little slower, building its first new ship since 2010, for launch in 2022. Not much is known about the fourth sister to queens Elizabeth, Victoria and Mary 2, except that she will be bigger – carrying up to 3000 guests. A formidable design team, including Adam D. Tihany (the renowned hotel designer responsible for Seabourn Encore and Ovation's stunning interiors), has been hired and we can be sure the new Cunarder will share her sisters' distinctive livery and red funnels.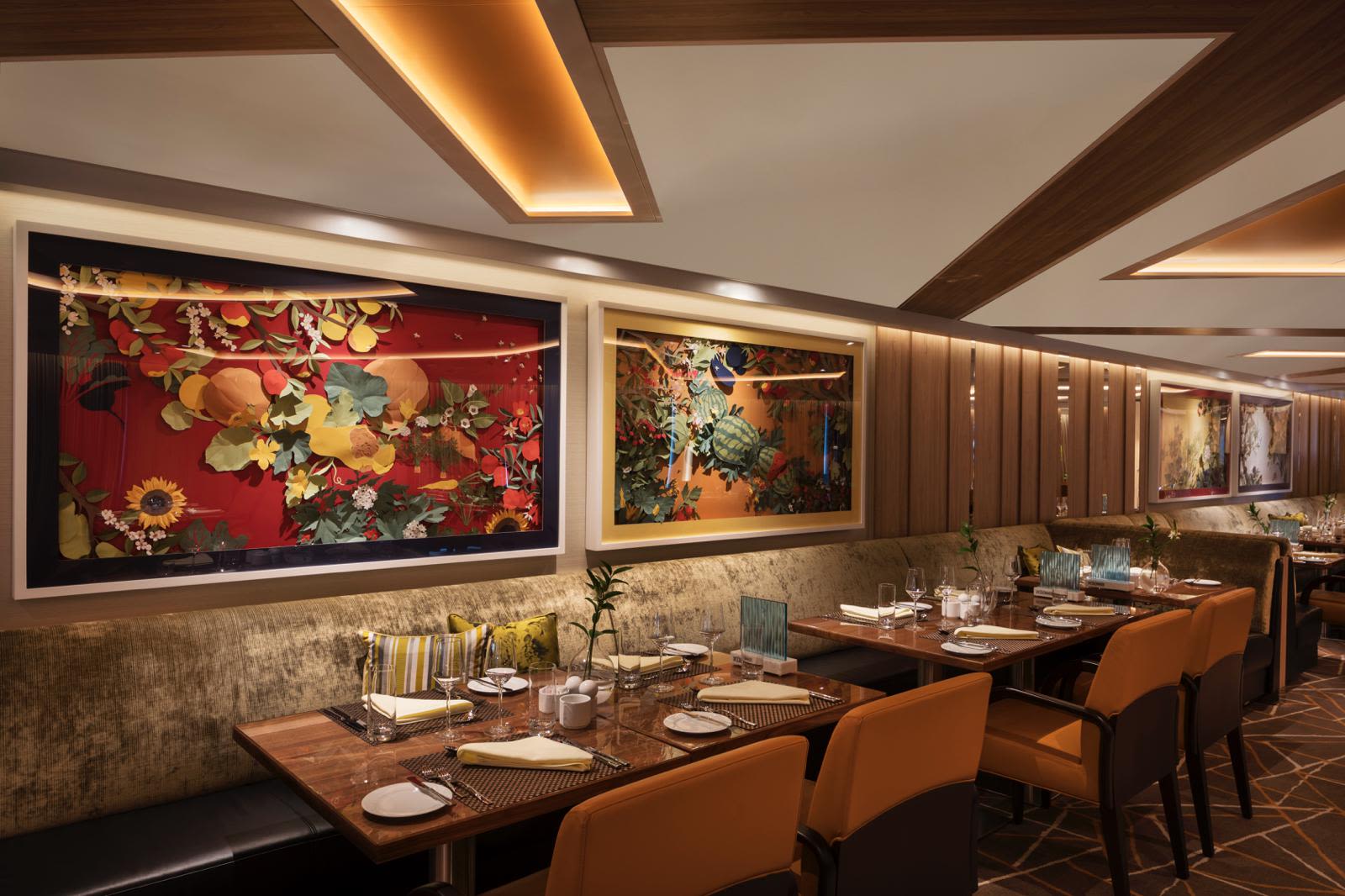 Last but not least – we could go on for another few years at this rate – Oceania Cruises, which describes itself as "upper premium", has two 1200-guest Allura-class ships on order, scheduled to arrive in 2022 and 2025. They will be a similar size to Marina and Riviera and will cost about €575 million each, fulfilling the "strong demand for upscale culinary- and destination-focused cruise vacations around the globe".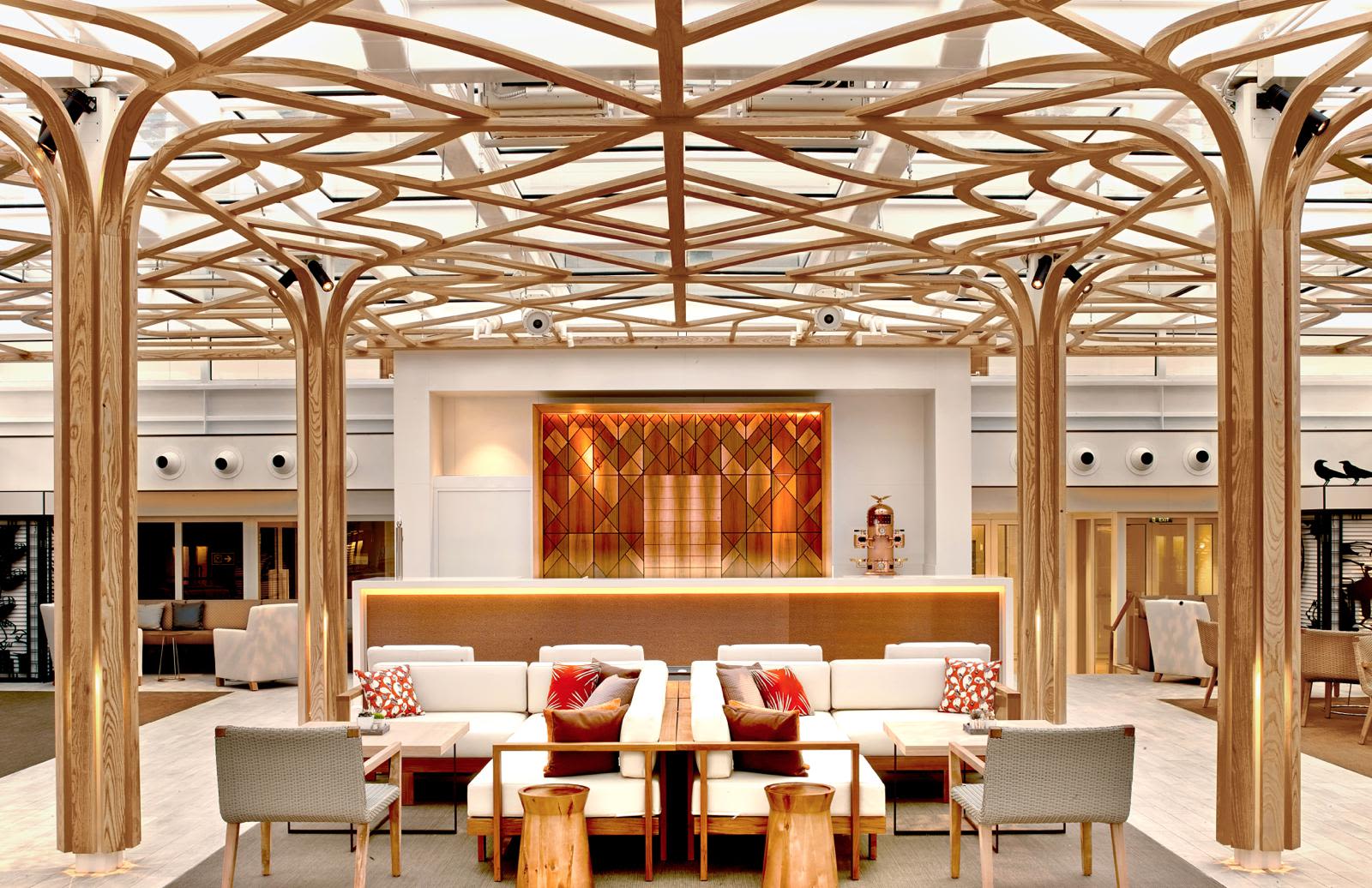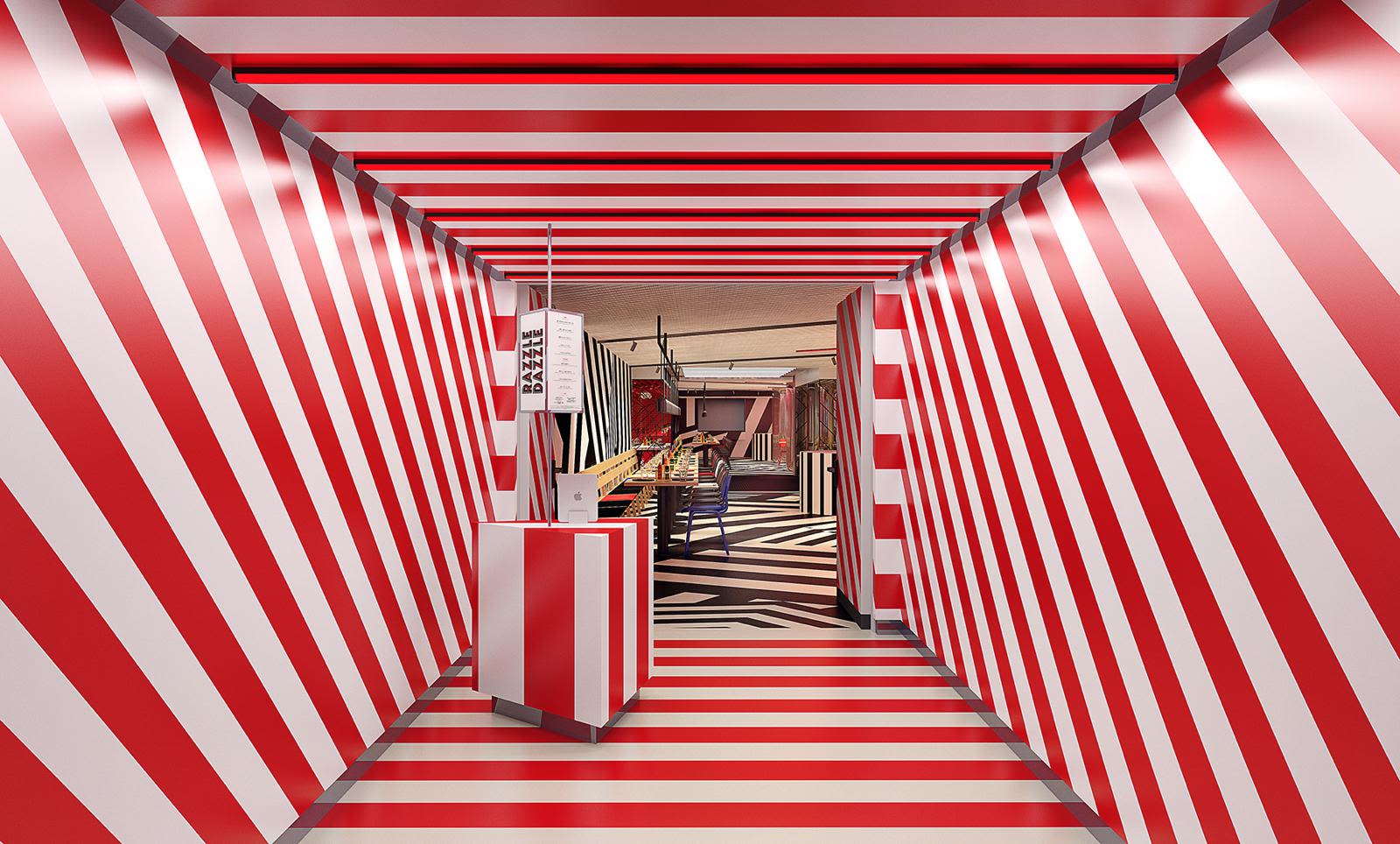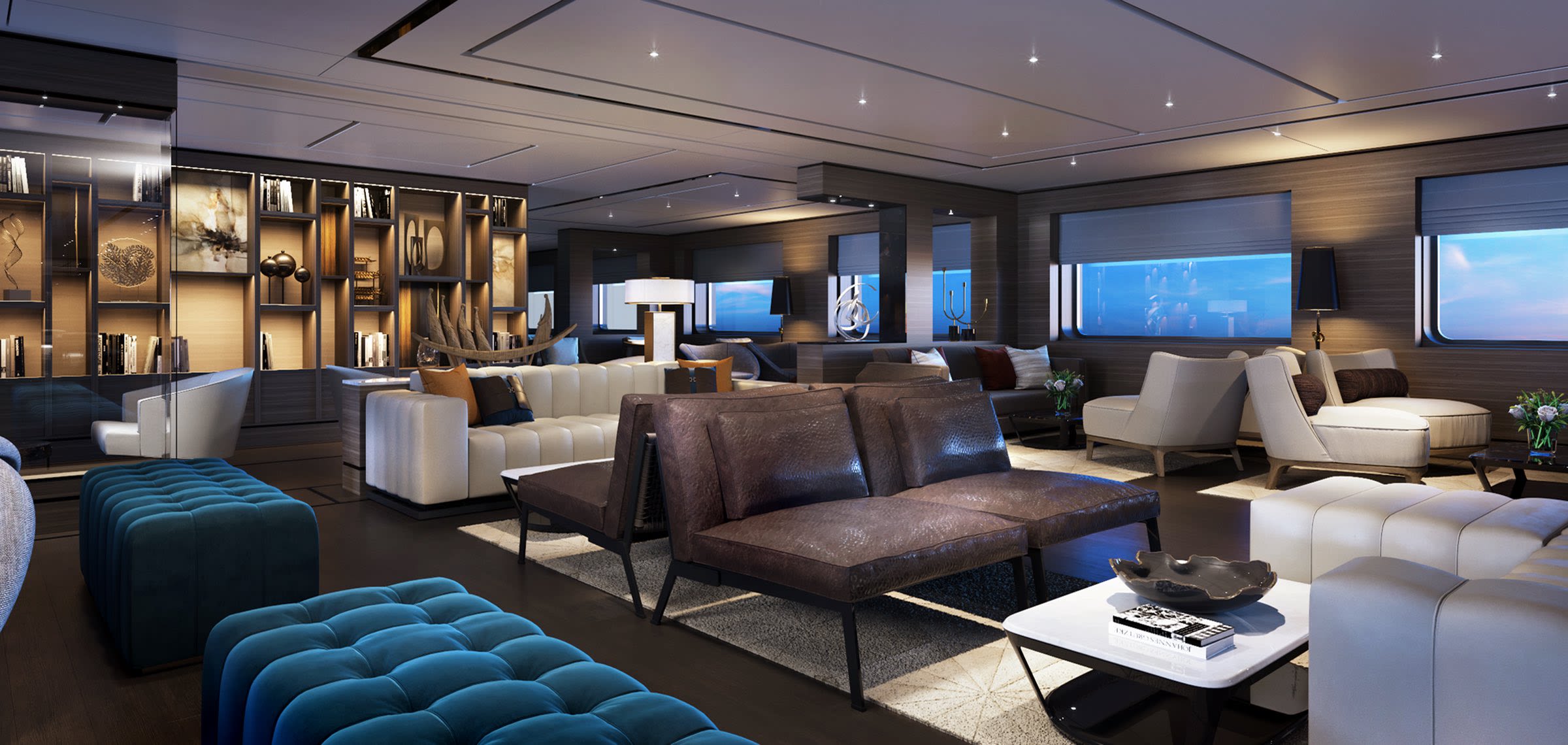 Rivers of Gold
Developments in luxury river cruising are more leisurely, but there are some notable new additions in the pipeline. Renowned American travel company Tauck, which has been operating river cruises in Europe since 1992, will introduce its first new ship on Portugal's sought-after Douro next summer. Tauck's CEO, Dan Mahar, says the Andorinha will carry fewer guests (just 84) than any other vessel operated by a major line on the Douro. Her staff will include a Tauck Cruise Director and three Tauck Director guides, signature personnel who make this line – and its excursions – a standout.
Uniworld's Super Ship program continues to expand. Having launched the lavishly revamped SS Bon Voyage in France earlier this year, the company will introduce four more Super Ships in 2020. Mekong Jewel, a beautifully appointed, all-suite, 68-guest ship, will start sailing between Ho Chi Minh City and Siem Reap in January.
Shortly afterwards, SS Sphinx will make its debut on the Nile. Egyptian artworks, fabrics and hand-carved furnishings will adorn the 42-suite ship, which Uniworld promises will be the "most luxurious on the river".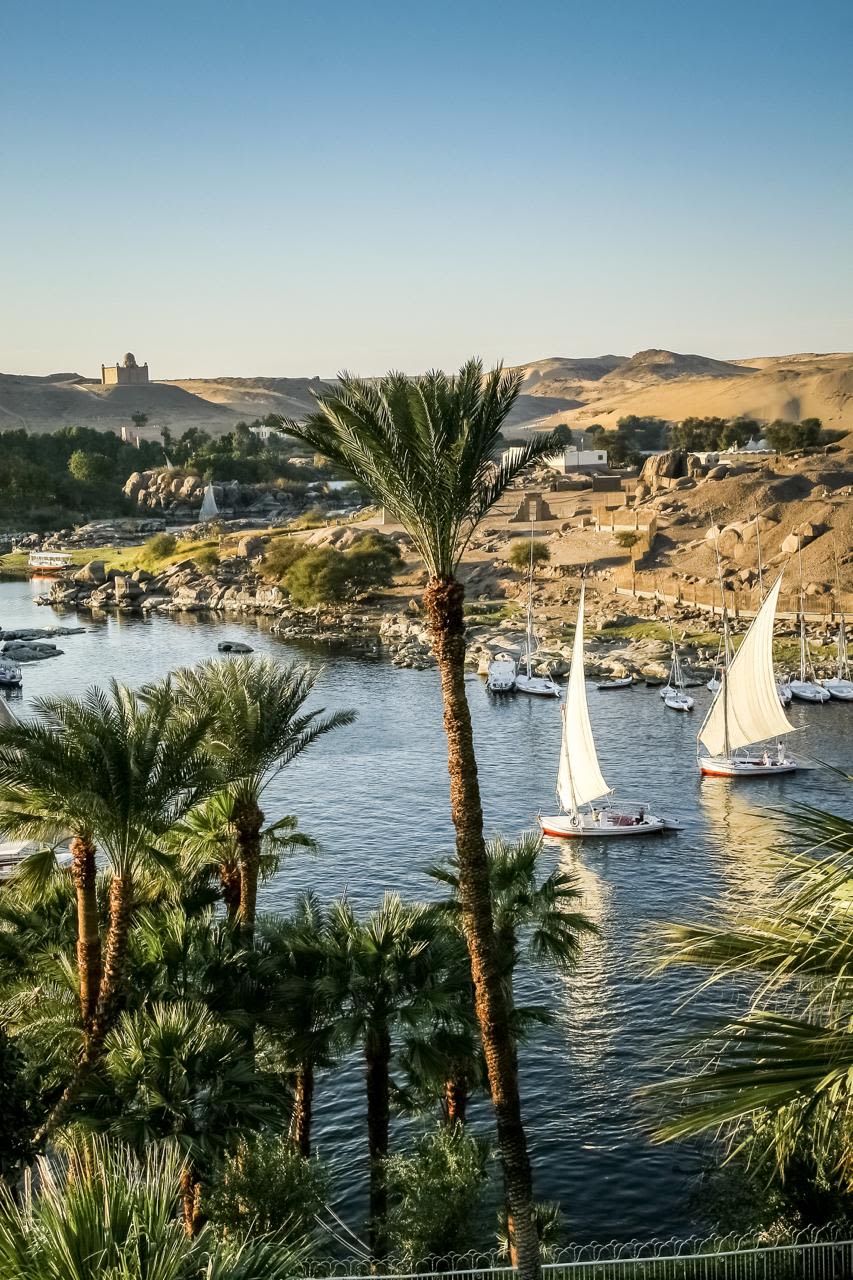 In March, SS Sao Gabriel will launch on the Douro and the 130-guest SS La Venezia will embark on eight-day cruises through and around Venice, the Po river and three Venetian islands. Currently known as River Countess, the ship infamously smashed by MSC Opera in Venice earlier this year, she will be given the full Super Ship transformation. We can only hope that megaships are banned from Venice's historic canals by the time SS La Venezia returns.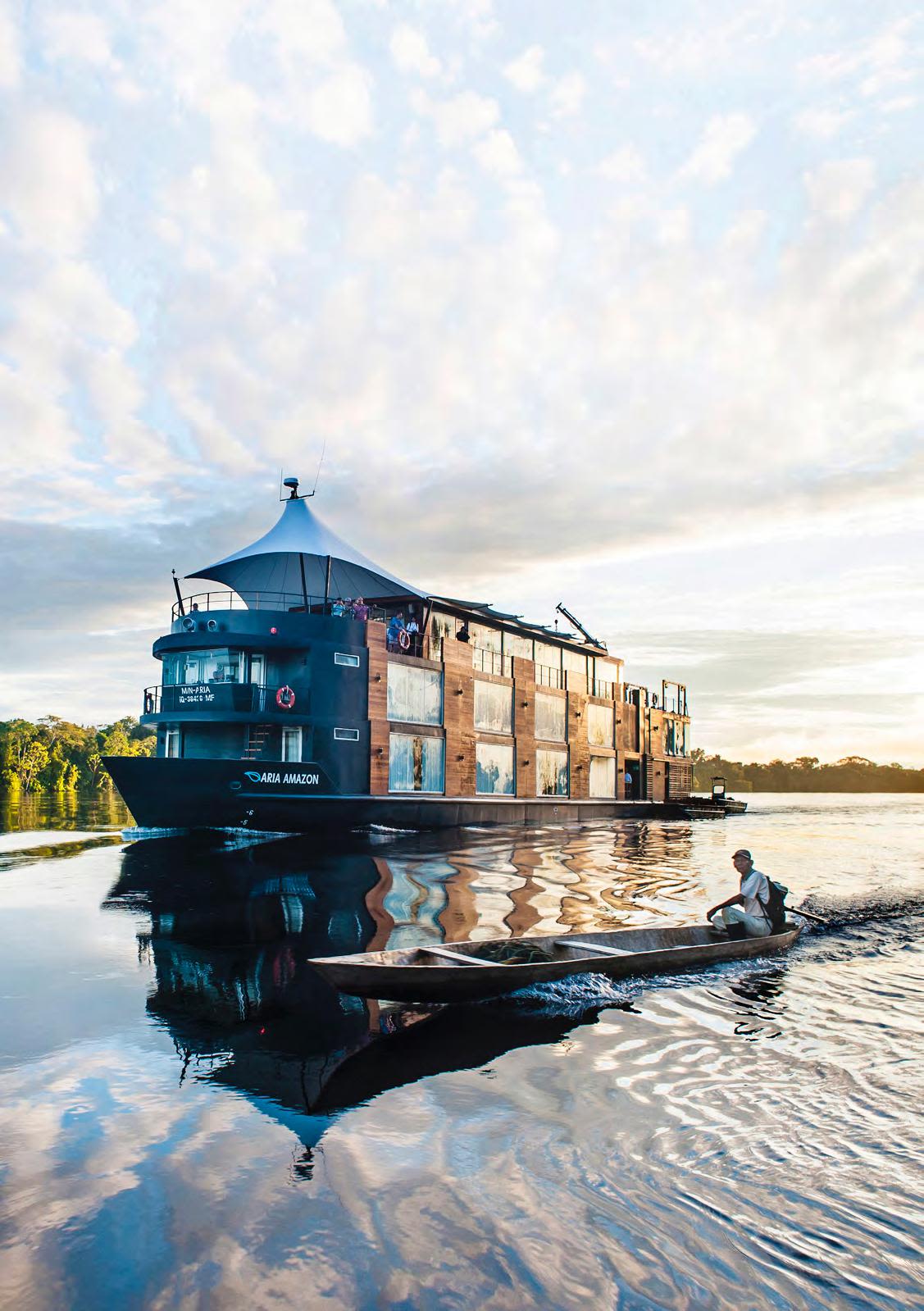 Boutique small-ship company Aqua Expeditions is building a new eco- friendly vessel to join Aria Amazon on the Peruvian Amazon next July. Aqua Nera will be slightly bigger, with 20 rather than 16 suites, but she will feature similarly stylish interiors, a one-to-one staff-guest ratio and, importantly, cuisine by award-winning Peruvian chef Pedro Miguel Schiaffino.
Crossing the Divide
Aqua Expeditions is one of a handful of companies exploring new cruising grounds – in this case the river-expedition line is going coastal, launching the fully refurbished 30-guest Aqua Blu in the East Indonesian Archipelago this November. Along with luxe amenities such as a plunge pool and spa, she will be equipped with kayaks, stand-up paddleboards, and diving and snorkelling gear. Year-round cruises will explore Raja Ampat, Ambon and the Spice Islands, and Komodo National Park.
Ultra-luxe Crystal Cruises has the most diverse portfolio and it continues to expand. In 2015 it operated two classic ocean ships, Serenity and Symphony; by 2018 it had added five river ships (one of those – Crystal Mozart – has now moved elsewhere) and one yacht, Crystal Esprit. Next to slip out of the shipyard will be the first Crystal Expedition yacht; the 200-guest Crystal Endeavor will make its maiden voyage, from Tokyo to the wilds of Russia, in August 2020. We can also look forward to the 800-guest Crystal Diamond, the first in a new class of luxury ocean ship, which is scheduled to join Serenity and Symphony in 2022.
Viking River Cruises, which was established in 1997 – 18 years before Viking Ocean Cruises launched Viking Star – is forging ahead as the world's biggest river cruise line, with six more river ships due on Europe's rivers in 2020.
Like Viking, Australian-owned river-cruise line Scenic is heading for the high seas. Its first 'Discovery Yacht', the 228-guest Scenic Eclipse, has suffered a series of delays but its maiden voyage from Reykjavik to Quebec City is now on track for August. Scenic Eclipse is one of a new breed of ultra-luxury expedition ships – not only will guests enjoy butler service and fine dining in all corners of the globe, but the ship is equipped with two helicopters and a mini-submarine.
"...worldly travellers [are] looking for something more than the well- worn travel paths. They seek the stimulation of education and immersion in places and cultures untouched by mainstream tourism. They have a heightened interest and care for the extraordinary wildlife that we find in remote areas of the world... that is where luxury expedition cruising has come to the fore."
Sarina Bratton, Asia Pacific chairman of French expedition line PONANT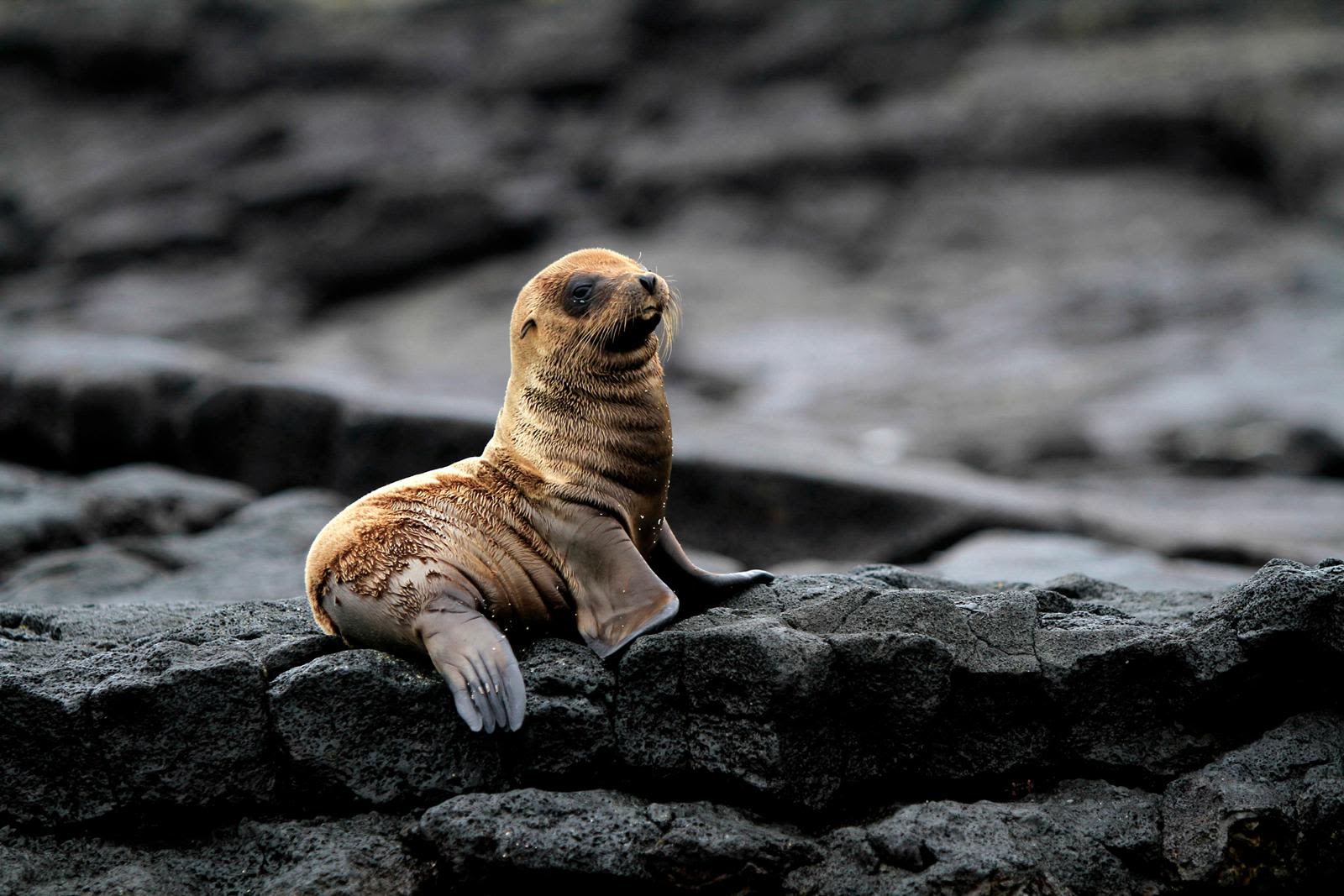 Final Frontier
If you thought there was a lot happening in the world of luxury ocean cruising, take a look at the growth of luxury-expedition cruising. It's mind-boggling.
According to the 2019 Cruise Industry News report, there are more than 40 new expedition ships on order and the market will more than double in capacity between 2019 and 2023.
Who is fuelling the growth in this style of cruising? Sarina Bratton, Asia Pacific chairman of French expedition line PONANT, explains. "When we were operating Orion Expedition Cruises, it became obvious that worldly travellers were looking for something more than the well- worn travel paths. They seek the stimulation of education and immersion in places and cultures untouched by mainstream tourism.
"They have a heightened interest and care for the extraordinary wildlife that we find in remote areas of the world. We can only protect what we know, and that is where luxury expedition cruising has come to the fore."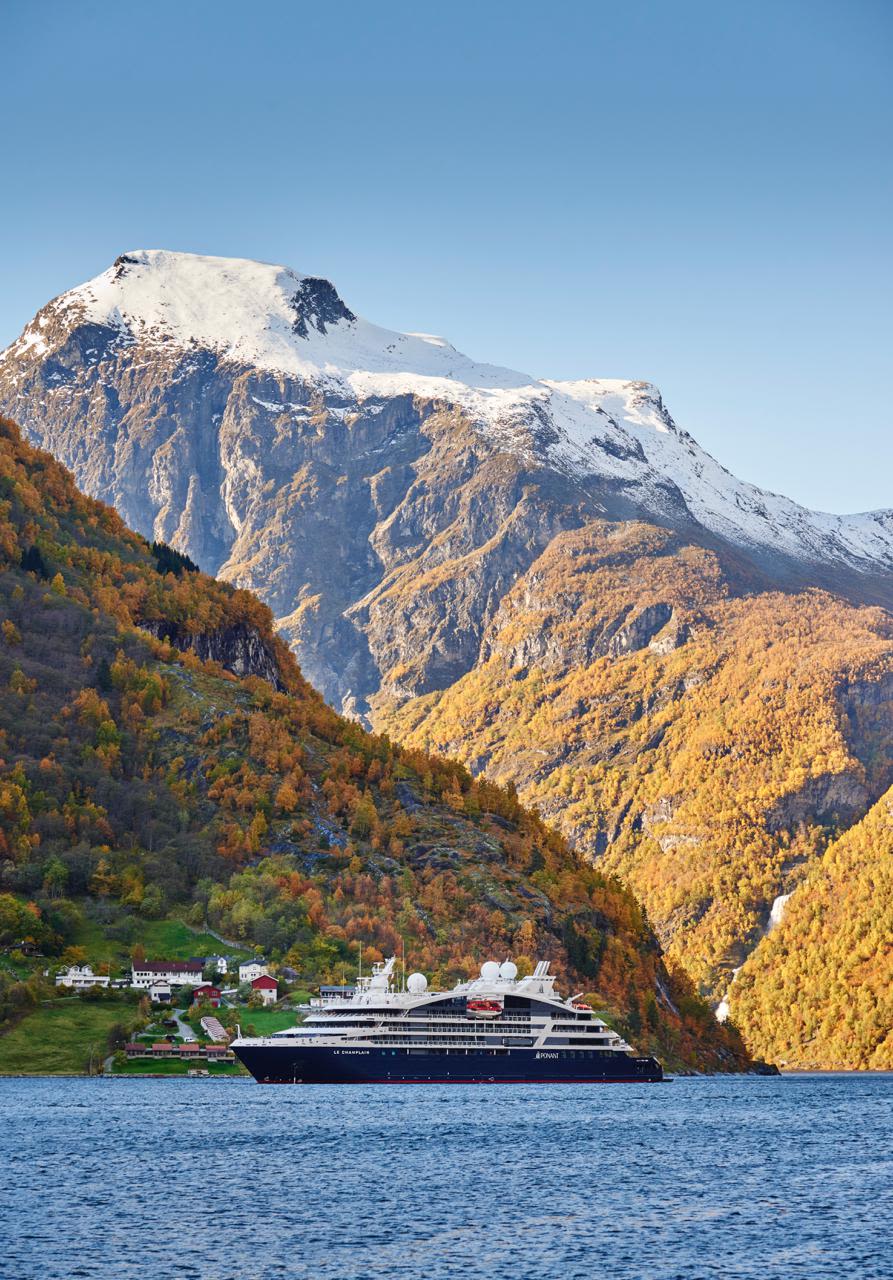 PONANT has four 264-guest sister ships and over the past 12 months has taken delivery of the first three of six smaller, 180-guest Explorer-class vessels. By 2021 the company will have a fleet of 12. The sleek, elegant Explorers feature the Blue Eye multi-sensorial underwater lounge, where
you sit in vibrating 'body listening' sofas while viewing the sub-aquatic world through giant portholes. State-of-the-art technology transmits sounds of the ocean to the lounge, so it's like being underwater – without getting wet.
As increasing numbers of well-heeled, adventure-minded travellers look for more remote, unspoilt destinations to explore, established luxury lines are expanding their operations into new frontiers. Silversea's nine ships include four luxury-expedition vessels; the 254-guest Silver Cloud moved into the expedition fleet after undergoing an extensive (and expensive) conversion in 2017. Adam Armstrong, Silversea's Managing Director, Australia and New Zealand, says, "Our expedition cruising represents around a quarter of Australian bookings, mainly to the Polar regions as well as the Kimberley. Unusual itineraries in the Russian Far East, South America and PNG are also very popular."
Seabourn, another operator in the ultra-luxe sphere, is building on the success of its Antarctic voyages aboard the ice-strengthened Seabourn Quest and now has two 264-guest expedition ships on order. Seabourn Venture is due in June 2021 and, like Crystal Endeavor and Scenic Eclipse, she will be equipped with custom-built submarines – sorry, no helicopters. What Seabourn Venture will have, in spades, is space. More deck space than any other similar-sized ship, vast suites fitted out with bespoke furniture (even heated cupboards for stashing jackets on cold- climate expeditions) and exquisitely designed public areas.
Since 2002, Sea Dream Yacht Club has coasted along with two highly awarded vessels, SeaDream I and II, but this year company owner, chairman and CEO Atle Brynestad announced that a third one will launch in 2021. SeaDream Innovation will sail in Polar regions as well as places like Japan, Korea, Bali, Fiji, PNG and Australia. "That's why we call it 'Global Yachting'," Brynestad says of the ship's new motto. "We'll go all over the world with the same level of luxury service as on SeaDream I and II."
The Galapagos Archipelago, designated as a UNESCO World Heritage site for its extraordinary biodiversity, has long been on wildlife lovers' wish lists. Two new ships set sail in the 'Enchanted Isles' earlier this year – Ecoventura's boutique, 20-guest motoryacht MV Theory and Celebrity Cruises' glamorous, 100-guest Celebrity Flora – and Silversea's elegant, 100-guest Silver Origin will replace Silver Galapagos next March.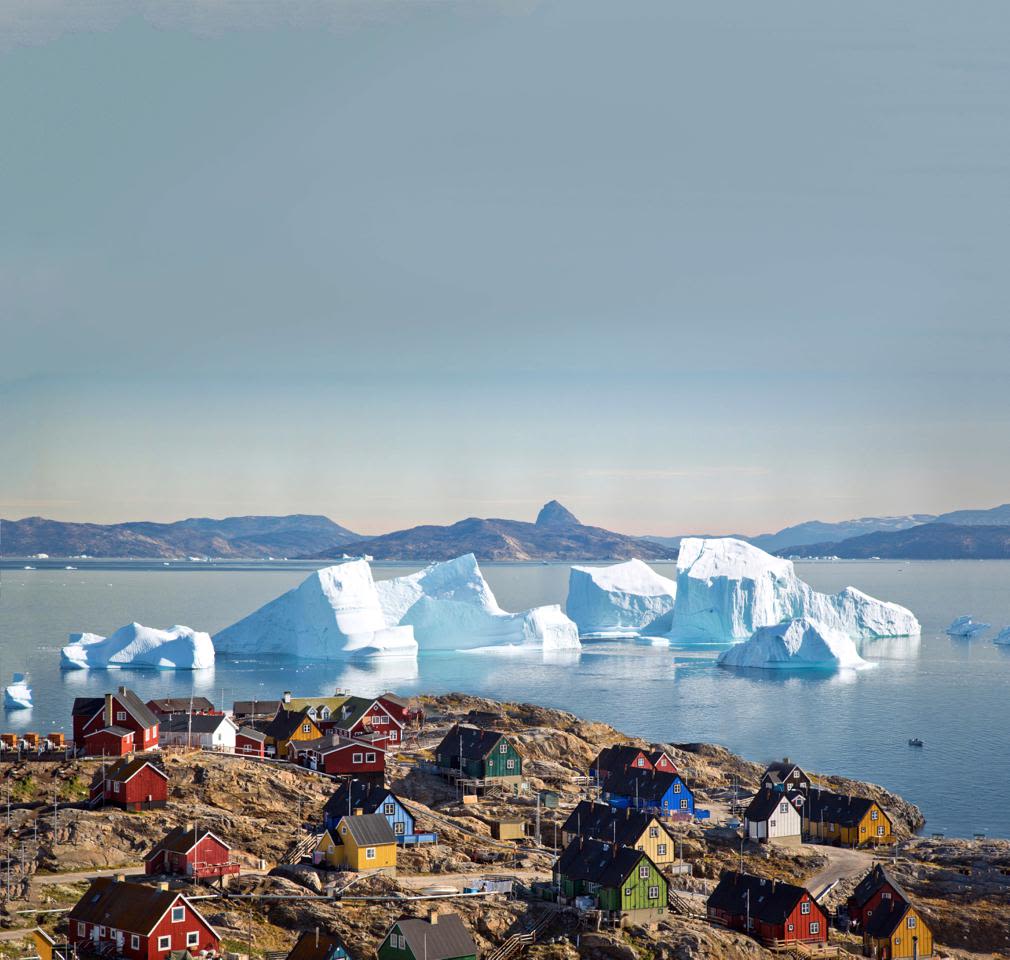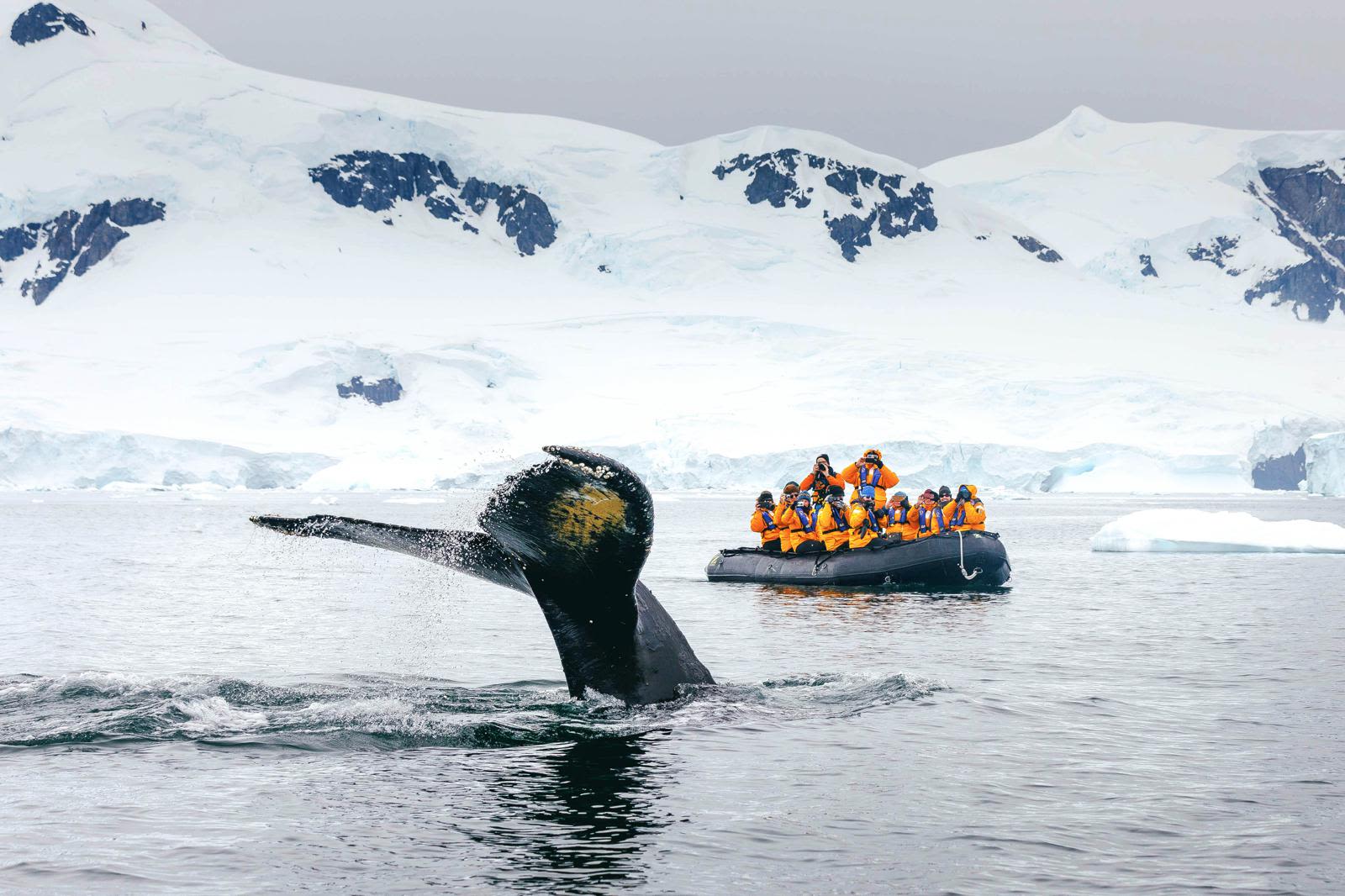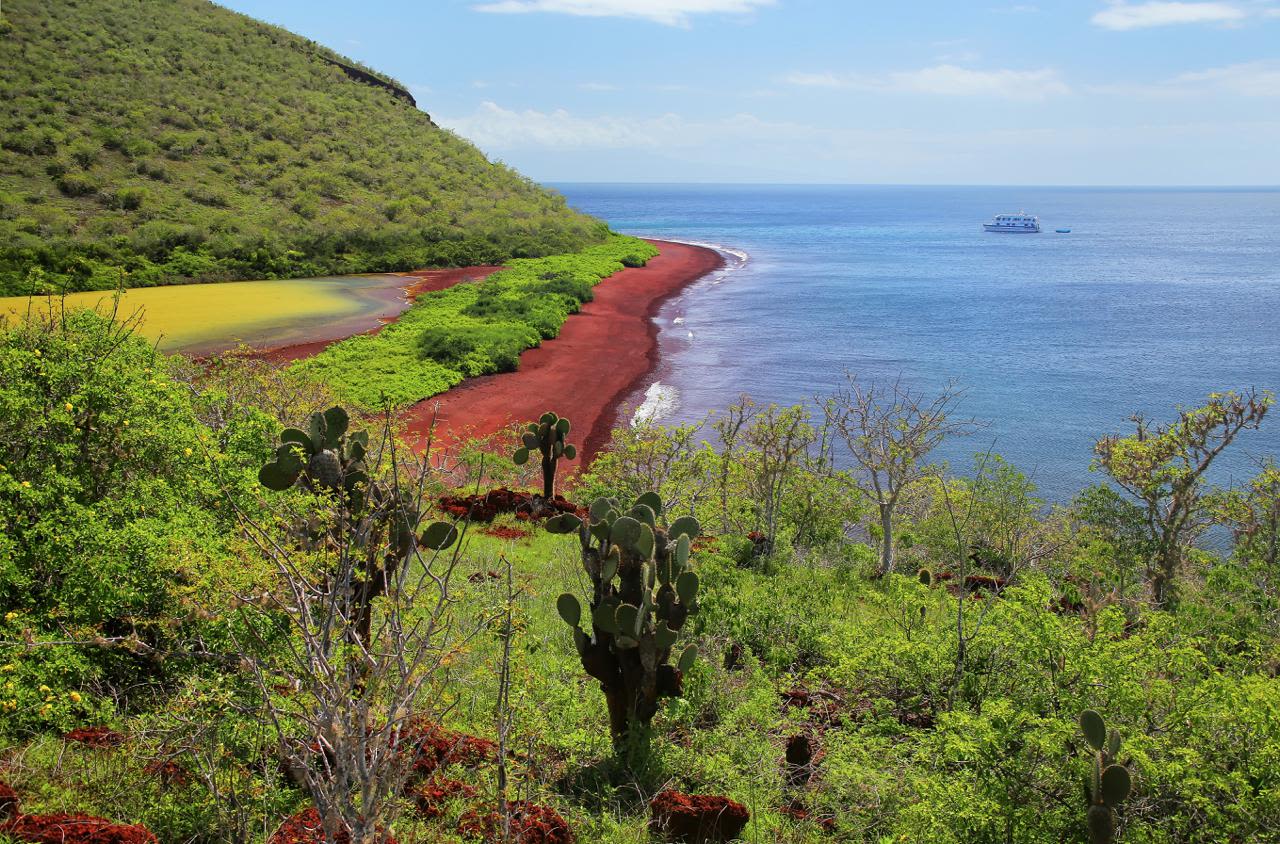 Sustainability
Ecoventura has been actively involved in environmentally-friendly cruising since its inception in 1991 – long before sustainability became today's must-have travel credential. "We all live in this world and breathe the same air, the least we can do is try to preserve it for our children and future generations to come," says company president Santiago Dunn.
The fight against plastic waste, climate change and over-tourism is being waged by every cruise line worth its salt. Across the industry, there are numerous foundations, campaigns and partnerships with international conservation programs, and all the new luxury-expedition ships mentioned previously – and many more that are coming soon – are being built to exacting specifications to ensure minimal impact on the environment.
Norwegian small-ship line Hurtigruten's newest vessel, the 530-guest Roald Amundsen, is powered by electric hybrid technology, while megaship operator Carnival Corporation has launched one LNG-powered ship (AidaNova) and has 10 more scheduled for delivery by 2025.
Highly esteemed expedition company Lindblad, the original pioneer of expedition cruising, recently made its entire operation carbon neutral.
How can eco-conscious cruisers be sure they are sailing with an environmentally reputable cruise line? It's a tricky question because there's a lot of greenwash – ridding a ship of single-use plastics is all well and good, but not helpful if it continues to burn dirty fuel or illegally dump waste. The only answer is to undertake diligent research – there are many reports, some wildly conflicting – and ask some hard questions before you make a booking.
Food and Wellness
Fine dining is a given on any ship, but these days cruise lines are taking their offerings to the next level. You'll find enticing menus created by world-class chefs (Nobuyuki 'Nobu' Matsuhisa on Crystal, Jacques Pépin on Oceania, Thomas Keller on Seabourn) and on select cruises, the revered masterchefs conduct demonstrations on board and lead gourmet tours ashore.
Hands-on cooking classes are a big thing. Regent Seven Seas introduced the Culinary Arts Kitchen on Seven Seas Explorer (it will also feature on Splendor), allowing guest to brush up their culinary skills and produce an array of global dishes in a cutting-edge galley. Sister line Oceania Cruises has been offering a similar program on board its two larger ships, Marina and Riviera, for some time.
Recognising a worldwide trend towards healthier, vegetarian and vegan choices, RSSC and Oceania are both expanding their menus to include more than 200 plant-based dishes across their fleets. Delicious new dishes are plucked from a range of cuisines, including Italian, Greek, Middle Eastern, Korean, Thai, Vietnamese, Mexican, Italian and Malaysian.
In case you over-indulge in culinary immersion – or just want to start or maintain a healthy mind-body-soul regime – luxury ships have spas, classes and activities galore. Along with providing more imaginative and active shore excursions for fitness-conscious travellers, cruise lines have well and truly jumped on board the wellness movement sweeping the world.
One notable program is Seabourn's Spa and Wellness with Dr Andrew Weil. Devised by integrative health expert Weil and available across the fleet, it covers meditation, yoga, seminars on nutrition and sleep, and crystal sound bath healing sessions. Weil travels on a few Wellness Voyages every year and will be on board Seabourn Encore's 'Wellness in the South Pacific' cruise, from Auckland to Sydney, in February 2020. Along with other noted health experts, Weil will present lectures and workshops, and optional Ventures by Seabourn shore tours include activities such as kayaking, hiking and cycling.
Talking about shore excursions, Oceania offers Wellness Tours on select cruises in Europe, South America, Asia and Australia. They range from qi gong in the rainforest to Kandyan dance classes in Colombo and many more. One that sounds particularly intriguing is the Ibusuki volcanic sand bath, followed by a dip in a hot spring, in Kagoshima, Japan.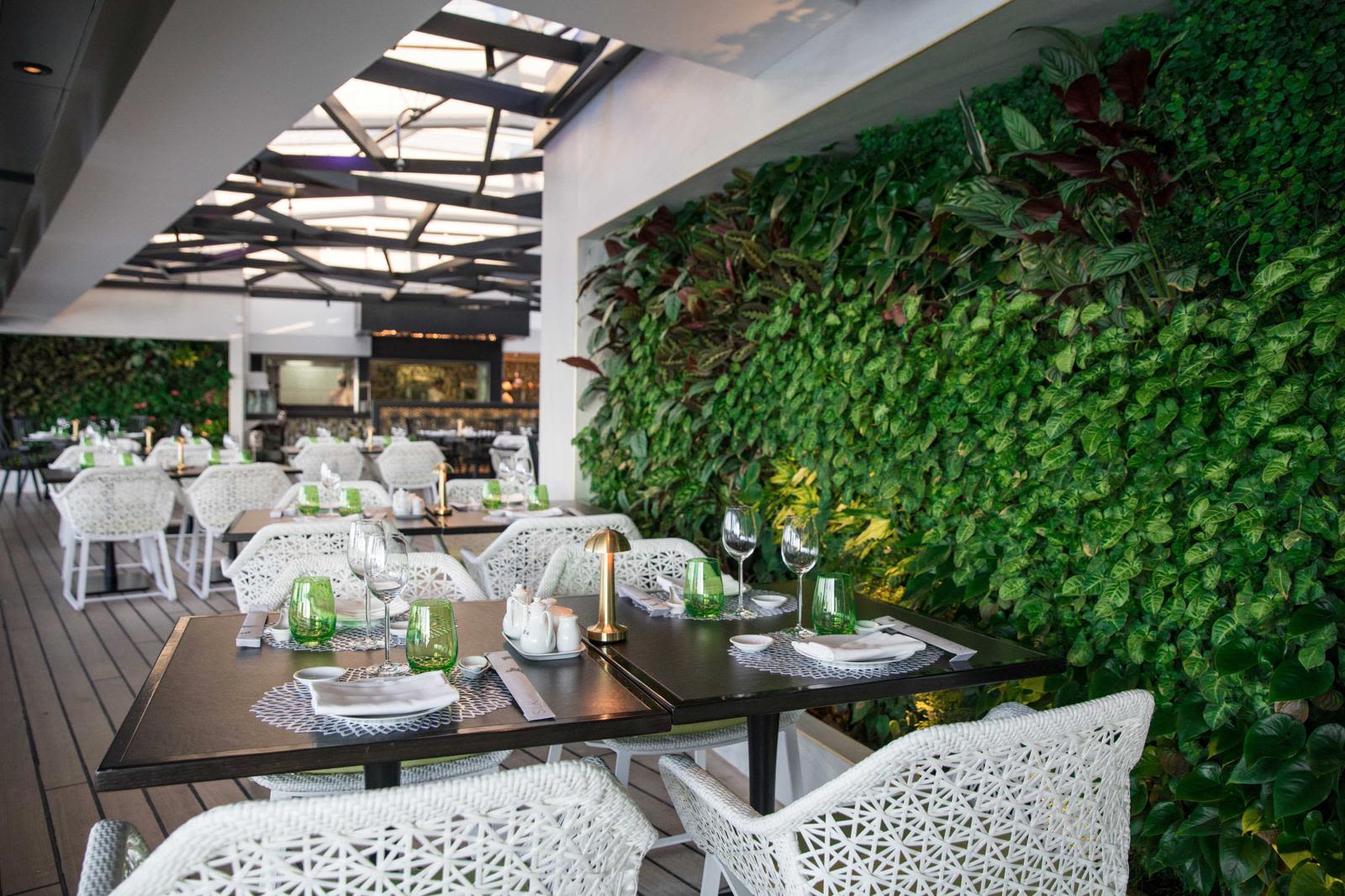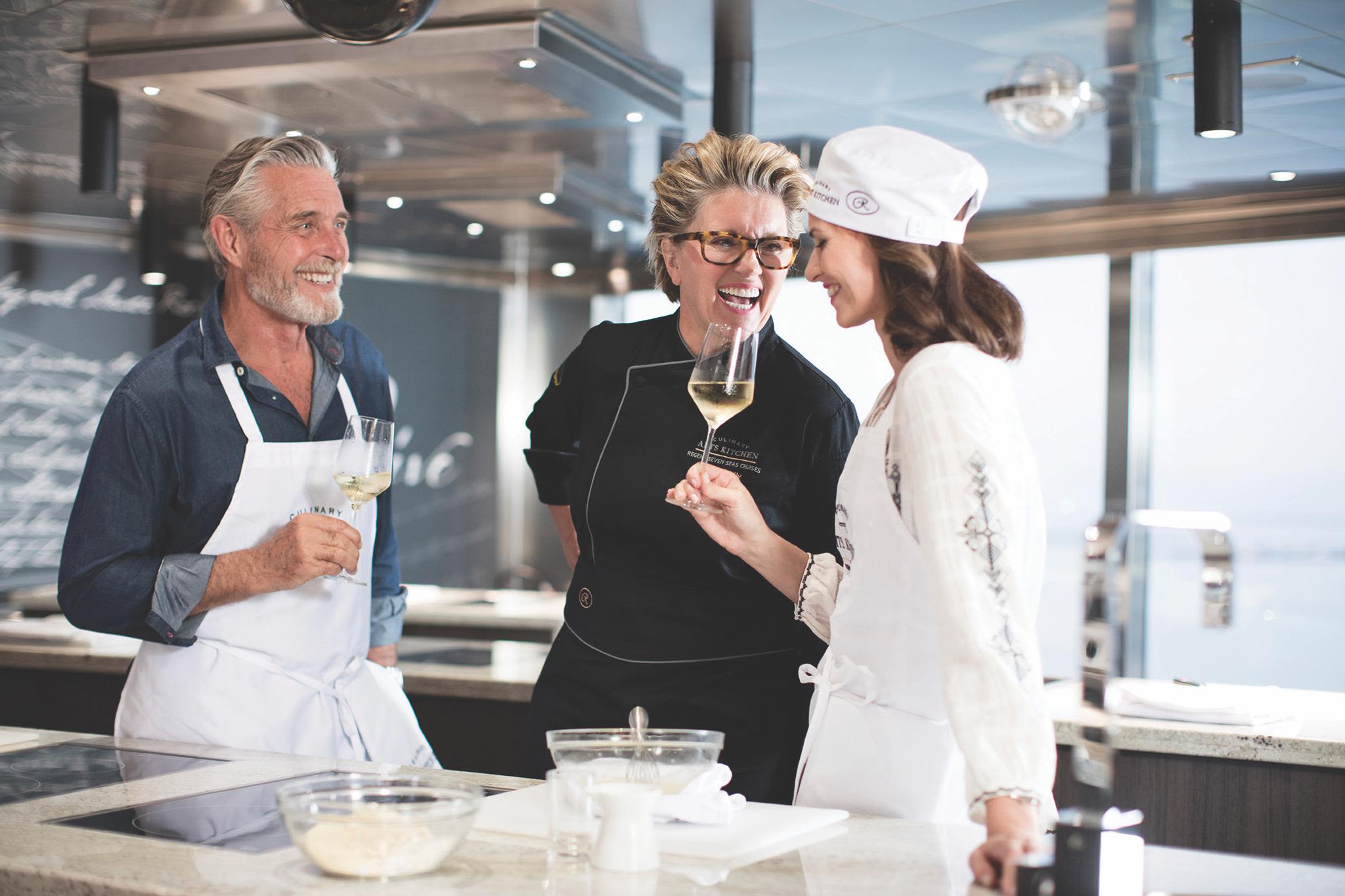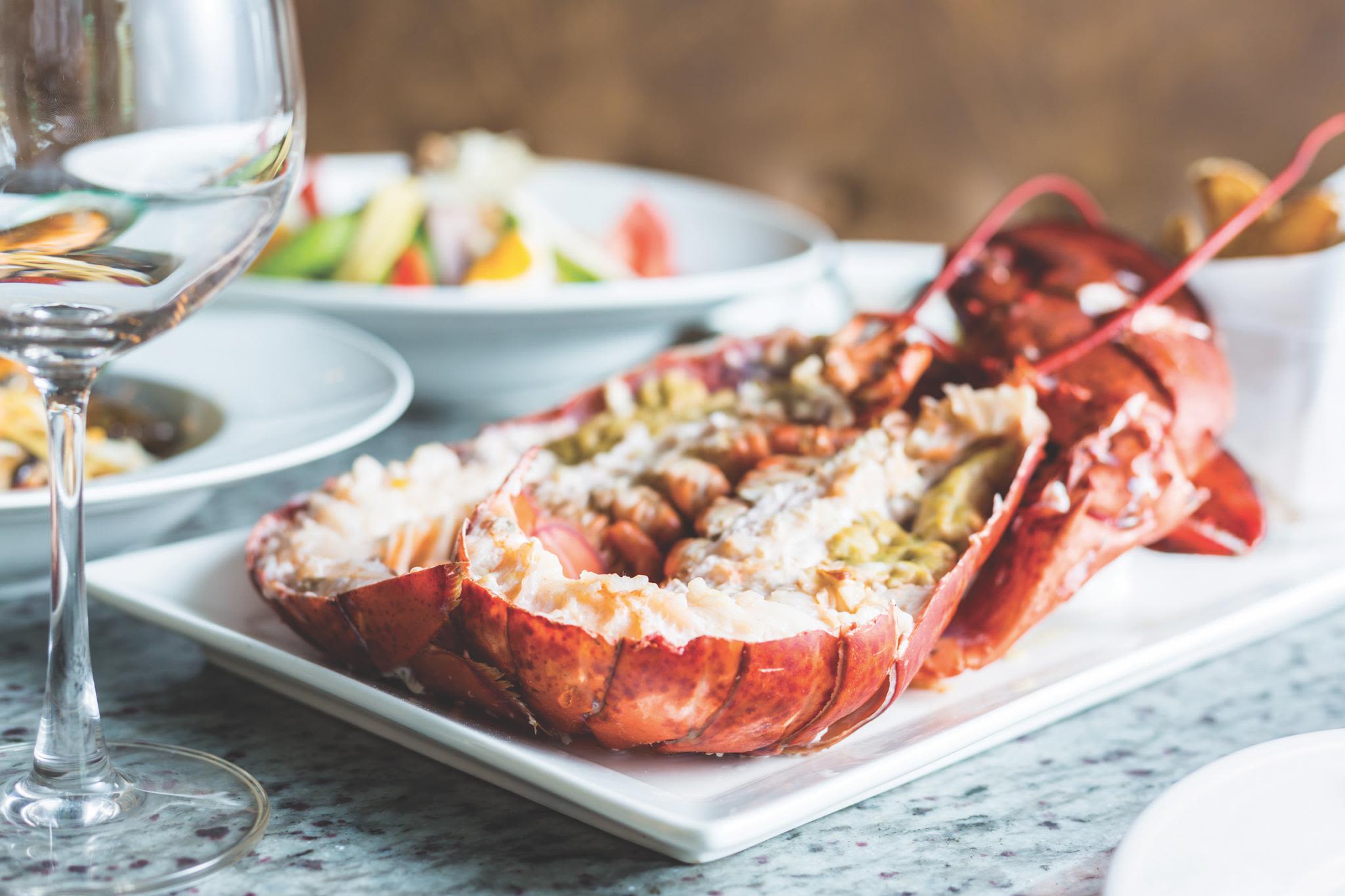 "Our expedition cruising represents around a quarter of Australian bookings, mainly to the polar regions as well as the Kimberley. Unusual itineraries in the Russian Far East, South America and PNG are also very popular."

Adam Armstrong, Silversea's Managing Director, Australia & New Zealand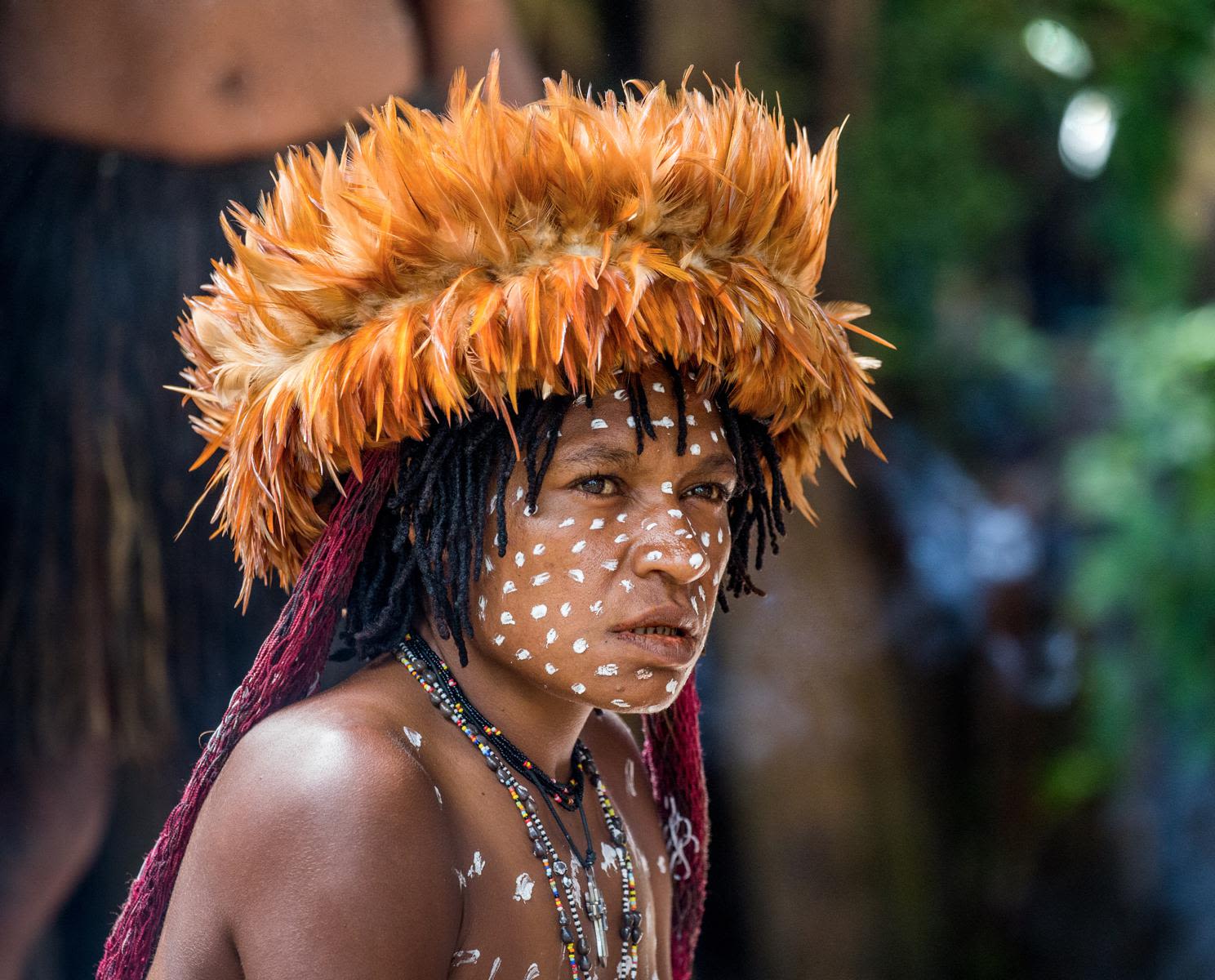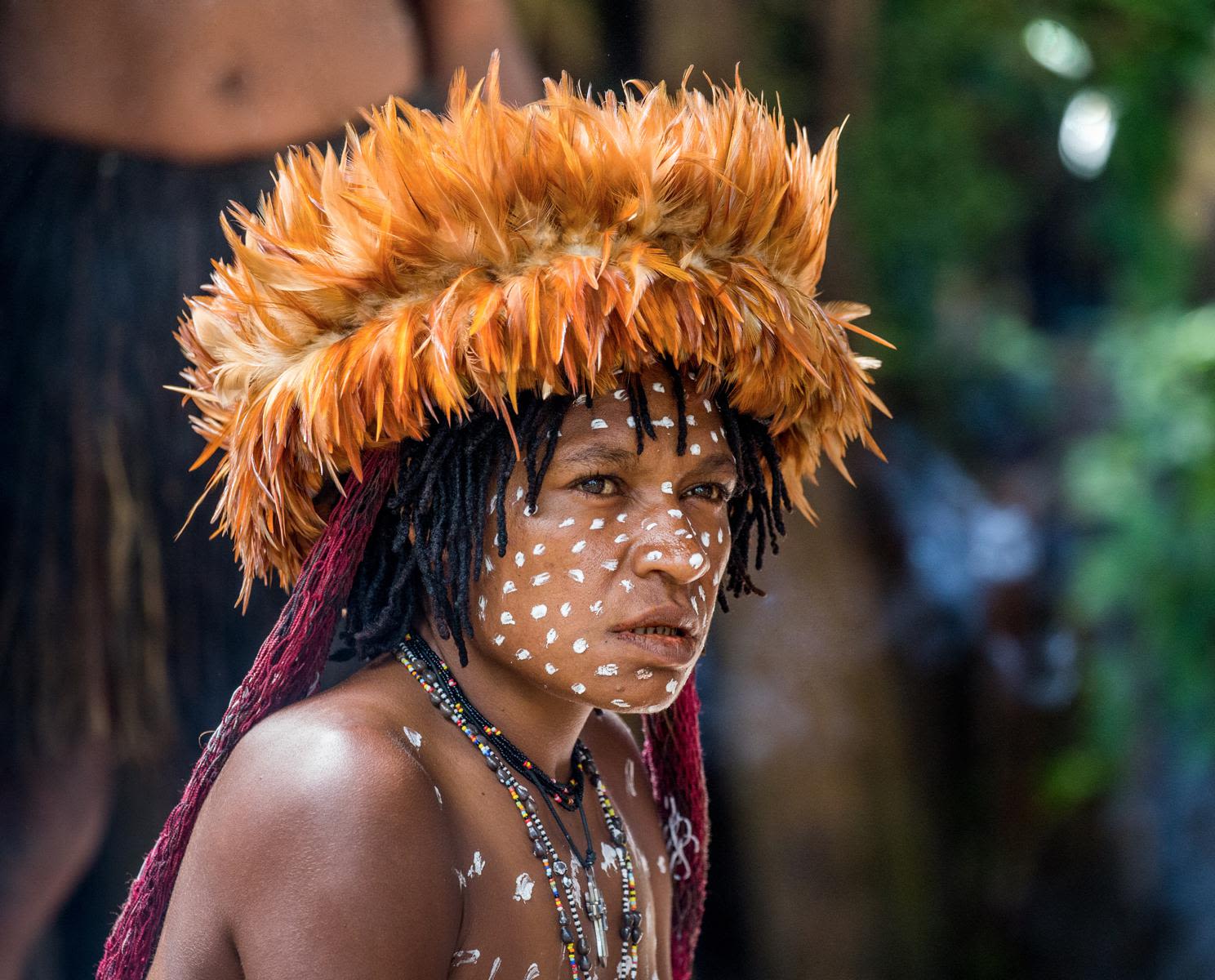 Dani tribeswoman, West Papua
Dani tribeswoman, West Papua
Where to Next?
Although Cuba has been unceremoniously removed from the top of the list, following the Trump administration's ban on cruises to the country, industry experts agree Japan is right on trend. "Travellers are going beyond Tokyo and Kyoto," says Crystal Australasia's senior VP/managing director, Karen Christensen. "Crystal Endeavor's 'Island Explorations' itinerary will take guests from ancient cities with mountain castles to the breathtaking beaches of the Okinawa islands."
Christensen adds that another popularity driver is accessibility. "The Northwest and Northeast Passage, for example, are climbing travellers' buckets lists, especially once they have experienced the thrill of Antarctica."
Turkey and Egypt are back on luxury cruise itineraries, while Alaska attracts more ships of all types and sizes every year. The Mediterranean remains a firm favourite. As Seabourn's director of deployment and itinerary planning Tim Littley says, "Nowhere in the world can one find such a variety and density of history, heritage, culture, cuisine and experiences."
PONANT's Sarina Bratton says Iceland has become a "hot" destination in the past few years and, closer to home, exploring the Kimberley on a brand-new expedition ship like Le Laperouse has captured the imagination of many Australians.
"I think our ability to open up luxury expedition opportunities in remote areas along the east and west coasts of Africa (Bijagos, Cape Verde, Vanilla Islands, Seychelles, Zanzibar) is exciting. Similarly, to experience such varied cultures through India, Sri Lanka, West Papua, the Solomon Islands and Melanesia opens up a world of comfortable travel with 180 like-minded guests. The hardest thing to do is to choose where next!"